One of the trends to mark this year's Mobile World Congress was definitely the rise of the Android quad-core powerhouses with massive HD displays. We took enormous amounts of teasing both from NVidia and Qualcomm showing us the theoretical and practical benefits of having four (or five, you know who you are) physical cores waiting to unleash their processing power under your fingertips.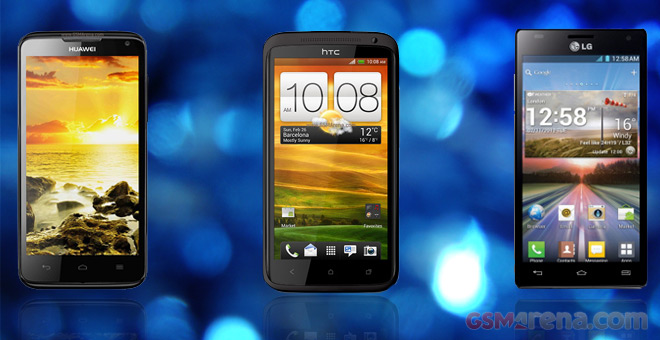 The multi-core beasts I am talking about are the Huawei Ascend D quad, HTC One X and LG Optimus 4X HD. All of them were announced at the MWC, have four processing cores (or more), pack HD resolution displays and run Android 4.0 Ice Scream Sandwich. So, let's bring them all together for a thorough comparison to see which will win the enthusiast Android users' hearts.
Without a shadow of doubt, the surprise in this comparison is Huawei's Ascend D quad. The Chinese manufacturer made quite a stir with its Android line-up at MWC 2012 and for good reason. The company is primarily known for its value-oriented smartphones and only until recently did they begin to step up their game towards the more high-end range of devices.
The Ascend D quad is a clear sign that the Chinese are not joking around. They want a piece of the hardcore Android crowd and they mean it. HTC and LG, however, have to be mad to not counteract. Meet the HTC One X and LG Optimus 4X HD.
HTC intend to reboot their product portfolio with their One series of phones. This time around, their bet goes to quality, not quantity in pursue of loyal fans. That's why the One X is the one of just three phones the Taiwanese announced in Barcelona, representing their warrior on the premium Android scene.
LG on the other hand, want to remind the world that they introduced the first dual-core smartphone just one year ago. And they haven't forgotten how it's done. And their Optimus 4X HD is here for the win no matter what.
Now that you've met the gladiators in our high-performance arena, let's get straight to the specifications comparison and see who's got the most pumped up arsenal.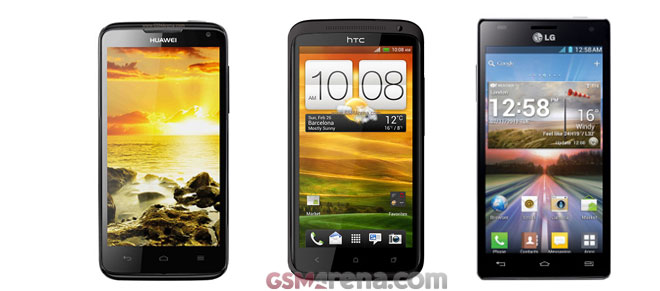 HTC One X

LG Optimus 4X HD

OS

Android 4.0
Ice Cream Sandwich

Android 4.0
Ice Cream Sandwich

Android 4.0
Ice Cream Sandwich

Display

4.5-inch
IPS+ LCD

4.7-inch
Super IPS LCD2

4.7-inch
HD-IPS LCD

Resolution

720 x 1280 pixels

720 x 1280 pixels

720 x 1280 pixels

Height

129 mm

134.4 mm

n/a

Width

64 mm

69.9 mm

n/a

Thickness

8.9 mm

9.3 mm

8.9 mm

Weight

130 grams

130 grams

n/a

Processor

1.2 GHz
quad-core
Huawei K3V2

1.5GHz
quad-core
Cortex-A9

1.5 GHz
quad-core
Cortex-A9

Storage

8GB

32GB

16GB

microSD

Yes, up to 32GB

No

Yes, up to 32GB

RAM

1GB

1GB

1GB

Main camera

8MP Auto-Focus with
dual LED Flash (1080p)

8MP Auto-Focus with
LED Flash (1080p)

8MP Auto-Focus with
LED Flash (1080p)

Main camera
Features

• Geo-tagging

• Simultaneous HD video and image recording
• Geo-tagging
• Face and smile detection

• Geo-tagging
• Face and smile detection
• Touch focus
• Image stabilization

Front-facing camera

Yes, 1.3MP (720p)

Yes, 1.3MP (720p)

Yes, 1.3MP

Wi-Fi

802.11 a/b/g/n

802.11 a/b/g/n

802.11 a/b/g/n

USB

microUSB port with MHL

microUSB port with MHL

microUSB port with MHL

NFC

No

Yes

No

Bluetooth

Yes, v3.0 with A2DP, HS

Yes, v4.0 with A2DP

Yes, v2.1 + A2DP

Battery

Li-Ion 1800 mAh

Li-Po 1800 mAh

 Li-Ion 2140 mAh

Availability

Q2

Q2

Q2

Sensors

• Accelerometer
• Gyroscope
• Proximity
• Compass

• Accelerometer
• Gyroscope
• Proximity
• Compass

• Accelerometer
• Gyroscope
• Proximity
• Compass
Right off the bat you notice something peculiar. The Huawei Ascend D quad has a bit smaller, 4.5-inch display, compared to the HTC One X and LG Opitmus 4X HD 4.7-inch ones. This means the Chinese are packing more pixels per inch, which in terms means more detailed imagery.
However, when we saw the One X, we were quite stunned by its Super IPS LCD2 screen. No matter how we looked at it, it amazed us with its sharp and saturated colors, and excellent brightness. Therefore, out of the three variations of the three different IPS displays those Androids pack, we liked best the one on the One X.
Keep in mind that this was just our first impression on the MWC showroom floor. Things are bound to change once we put those Droids under our extensive display test so nothing is certain just yet.
Anyway, continuing with the oddities of the Ascend D quad, we get to the chip under its hood. Huawei went a different route than HTC and LG with their Tegra 3 chipsets, which pack four Cortex-A9 core plus one complimentary for mundane tasks. Instead, Huawei built their own chip called just K3V2 with a quad-core processing unit underneath.
As a result, the Chinese claim they've built the fastest quad-core processor in the world. Bold claim indeed, but we'll have to let them have it at least until we inevitably get our hands on the Ascend D quad and give it a run for its money.
With that out of the way, let's get to the other specifications at hand. This particular trio of phones all have 8MP cameras and are around 9mm thick, which is quite impressive for devices with such super powers. HTC's One X, however, has a feature called Double Shutter, which allows you to snap pictures while shooting 1080p videos.
Continuing with the One X, it also has the highest storage capacity of 32GB, although we can't really forgive it for its lack of microSD card slot, which Huawei and LG have included in their devices.
And lastly, let's take a look at the battery. You can imagine that having four cores available under your fingertips requires large amounts of energy. That's why NVidia have put one extra core, which is a low voltage one, to be so kind and take all the common tasks, while the other four take a nap and don't consume as much juice. With the Huawei's K3V2 chip, things aren't so clear, so we can't know for sure what their plan for not eating the battery is.
Having that in mind, HTC and Huawei have put equally sized 1800 mAh batteries, but LG decided to bet on a safe card, and have thrown the largest battery they found – a 2140mAh Li-Ion. This should help the Optimus 4X HD hum along a bit longer.
Unfortunately, this is where the analysis has to come to an end. Based on their specifications all these quad-core Androids seem to be the same, but when they pay our office a visit, you can bet they'll come miles apart from one another.