The QHD titan duo is up next in our traditional weekend battle. It's the LG G3 vs. the Oppo Find 7, which are now transferring their rivalry in our blog, after their fight in our extended versus review is over.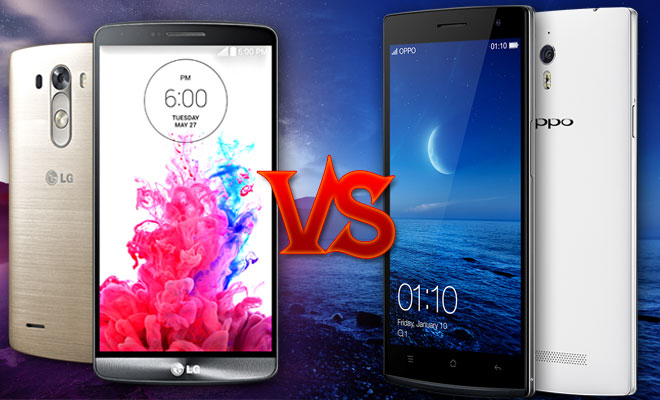 So now, it's up to you to decide which one is the better one in five key categories. Let's start with the aesthetics of the two flagships.
Design
The LG G3′s screen-to-body ratio makes it very compact for a 5.5″ smartphone. The Oppo Find 7 can't really measure up to that, but its cool LED notification light under the display and the carbon fiber back panel might just be well enough to win your heart.
Screen
The two are the first to pack extraordinarily sharp 5.5″ displays with a resolution of 2560 x 1440 pixels resulting in a pixel density of 534 ppi. Both trade blows, as the Find 7′s display has the superior contrast and the G3′s screen boasts the better sunlight legibility.
User Interface
LG has done a great job refining the design language of its custom Android skin. It's now flatter and cleaner. It's also very feature rich, just like the ColorOS on the Oppo Find 7. Both pack unique punch and offer the user a different approach to the Android user interface, but which one would you choose?
Still image quality
When it comes to the still image quality, we found out that the G3 and Find 7 are about equal in their performance. It's really up to your personal preference which of the 13MP shooters does the better job.
Video quality
As for video quality, we preferred the Oppo Find 7, because it offers higher frame rate on both 2160p and 1080p, but again the image quality is strictly a matter of personal preference.
That's it for this weekend's poll. See you in a week's time, when we'll announce the winner of this QHD smartphone battle.