Sony has finally unveiled the next-generation PSP. It's codenamed NGP (Next Generation Portable). The gadget looks much like its predecessor outside, but its core is able to compete with PlayStation 3.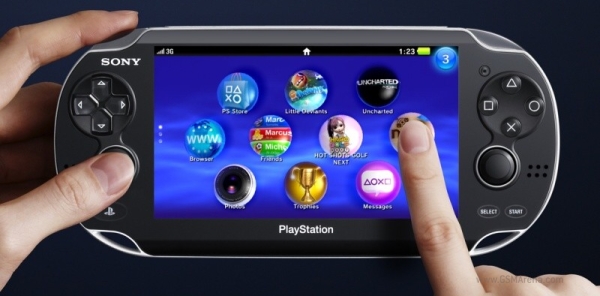 The PSP NGP packs quad-core ARM Cortex A9 processor and quad-core PowerVR SGX543MP4+ graphics – the same specs rumored for the next generation of iPads and iPhones. There is no official word on the RAM yet, but the debug units packed 1GB LPDDR2. Still it's possible the retail units come with 512MB.
The previous rumors about the screen and the connectivity came true. The next PSP is going to pack a 5-inch OLED capacitive multi-touch screen with 960 x 544 pixels resolution (4 times the original PSP one) and will be 3G, Wi-Fi b/g/n, Bluetooth and GPS capable. Most probably phone calls won't be supported. There is an XPERIA Play for that, you know.
The next PSP will have the same six-axis motion sensing control system as the PlayStation Move – a three-axis gyroscope and a three-axis accelerometer. There is also a three-axis compass.
The hardware controls and most important part of the console have changes since the first-gen PSP. Now there are two analog sticks, a D-pad, the usual Action buttons, two shoulder buttons (L/R triggers), the PS key, Start and Select buttons, Volume controls and a Power key.
But that's not all – there is a rear capacitive multi-touch pad positioned exactly behind the screen. That way you have two touch-sensitive controls in addition to all the buttons, which will surely take the gameplay experience to a whole new level.
The PSP NGP measures 182 x 83.5 x 18.6 mm and packs two cameras (front and rear). There are built-in stereo speakers and a microphone too.
The UMD drive is now gone. The game distribution will be done via "a small flash memory based card", but the type is yet to be revealed (SD or proprietary). There is also no word on the internal storage, but it's rumored to be 16GB.
Sony is developing a completely new user interface adopting all kind of social services. The LiveArea UI and the Near app will allow the users to jump from gaming to social life without losing game progress. Your PSP will be able to track you real-time (via GPS or Wi-Fi location) and will record all of your movements on a map and you can share them with other PSP buddies. In other words – yes, with the new PSP you may reveal all aspects of your life and completely strip yourselves of any privacy, if you want.
Let's talk about the games. Sony claims the new PSP has performance similar to its big brother, the PS3. I'm sure it doesn't, but it sounds promising nonetheless. Sony demonstrated Uncharted: Drake's Fortune running on the PSP NGP and it looked almost the same as on the non-portable console. Another demo showed an untouched Metal Gear Solid 4 cutscene taken directly from the PS3 version and rendered on the new PSP. It ran smoothly with 20 fps. Now that's impressive.
Sony's also announced a cross-platform dev framework to ease the programmers with the game ports. According to developers the port of the Lost Planet demo took three weeks, so it won't be too long before we see many PS3 titles compatible with the new PSP NGP.
And here is another awesome thing Sony is working on – if you have a multi-platform game (like Uncharted, for instance), the saves between your PS3 and PSP will be synced and you will be able to resume playing on whatever console you like.
As you may have guessed – lots of game studios are already working on PSP NGP titles. I already told you about the Uncharted and MGS4, Epic and Activision are also in on the party plus many more.
Sadly, the next generation PSP will be available in time for the 2011 holiday season (yes, that's almost a year from now). No matter what Apple has in store for its next-gen iPhones and iPad, with the PSP NGP, phones such as the XPERIA Play and the PlayStation Suite and Store for all Androids around, it might as well lose some of its gaming edge.