The Samsung Galaxy S3 has been enjoying Jelly Bean for some time now. But a handful of features that we first saw on the Galaxy Note 2 have been out of reach so far.
The split-screen view mode, for instance, allows big-screen smartphones with plenty of oomph to display too apps at the same time. Today's good news is that you can now get this and other new features on your Galaxy S3 via a pre-release official firmware.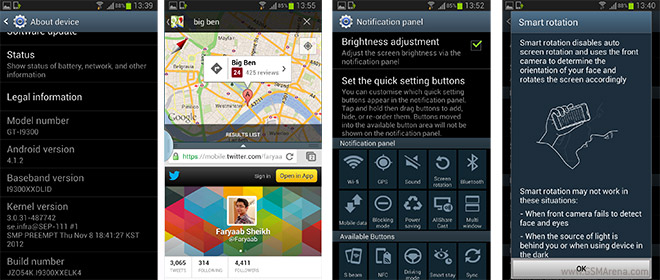 Rumors suggest these enhancements are to arrive officially to S3 owners this December as a sort of a Christmas present. But obviously presents will come early this year. Well, sort of, this one's more like a teaser.
The great guys over at SamMobile found somebody running the latest test I9300XXELK4 firmware and dumped the hell out of it. The resulting files were repackaged into an ODIN-flashable firmware, which is already pre-rooted.
Besides the split-screen view mode, the other new features in this firmware are:
Page Buddy (automatic homescreen panes as in Note II)
Notification dropdown shortuts can now be customized
Smart Rotation (phone detects when you are lying down)
Continues Input in the default Samsung Keyboard (much like Swipe or the Android 4.2 swiping input)
Paper Artist App (as in Note II)
New Gallery App (as in Note II)
As usual, proceed with caution. Flashing this ROM would increase your binary counter and will also change your device status to Modified so you can almost surely kiss your manufacturer's warranty goodby (if you haven't already).
Thanks for the tip, aapoorva.