Today Adobe Photoshop CS5 was unveiled by Adobe and though the real unveiling event won't start until this evening, Adobe have already put up a website detailing all the amazing new features, complete with sample images and videos. Plenty of jaws around the office dropped when we first saw the content-aware fill demo video, but there's more where that came from…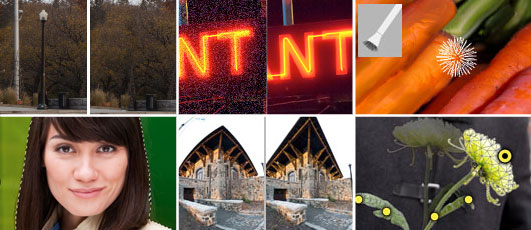 First off, if you haven't seen content-aware fill, check it out here. It doesn't look humanly possible with the current tools, does it? And if it is, it would take you hours to do if you're a Photoshop pro and forever otherwise.
Among the other new features is the Camera Raw 6 plug-in that is the same as the one we saw (and were very impressed by) in Adobe Lightroom 3 beta.
Furthermore with Photoshop CS5 complex selections are made dead simple with some more magic – the mask refine tool will do the hard work for you, even correct the colors around the edges (which can be quite annoying to do by hand).
Photographers will also enjoy the automatic lens correction and HDR Pro, which cleverly removes ghosting of moving objects and offers two-click tone mapping.
Designers however are getting the advanced puppet warp tool that can simulate muscles plus painting effects that seem like they can make a Rembrandt out of everyone.
Adobe Photoshop CS5 also comes with 64bit performance improvements and even further GPU acceleration.
Check out the new features here, with sample photos and videos as promised, also the dpreview overview of the new features.
And here's a video of Adobe's overly excited mad scientist who likes to call himself a "Photoshop evangelist". He's showing his five favorite features on video:
Anyway, Adobe Photoshop CS5 is up for preorder (no specific launch date is listed) and will set you back 199 US dollars if you're upgrading from CS4 and 599 dollars for a fresh new copy.