Parrot, the company behind the popular AR Drone 2.0, has added two new smaller flying toys to its family of drones – the Parrot MiniDrone and Parrot Jumping Sumo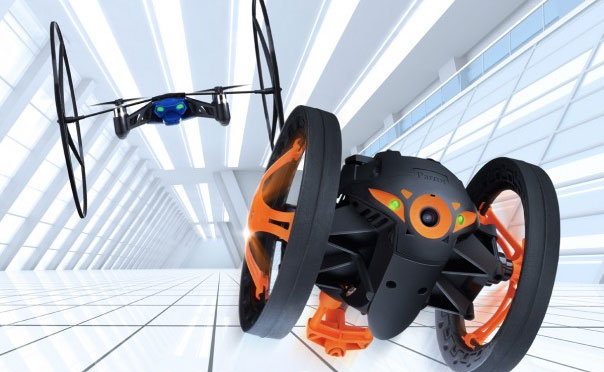 The Parrot MiniDrone is a smaller version of the aforementioned AR Drone 2.0 that almost fits in the palm of your hand. As a result of the smaller size, the MiniDrone is more simple than its bigger brother and doesn't have a camera on board.
As you'll probably see in the promo video below, the MiniDrone sports an interesting accessory – detachable auxiliary wheels, which can help it climb walls and drive on ceilings. It works with a Bluetooth connection with either iOS or an Android device.
Then there's the Jumping Sumo, which is a jump-happy wheeled robot that's capable of surviving drops of up to 80cm. Thanks to its spring-loaded mechanism, the Jumping Sumo will always land on its wheels, so you won't have to worry about breaking it.
Unlike the MiniDrone, the Jumping Sumo sports a VGA camera allowing it to stream what it sees. It uses a microUSB port for charging – an hour of charging is good for 20 minutes of playing around.
Check out the cool video demo of the two drones having a messy race around the house.
Expect both new Parrots to arrive some time in 2014 with pricing yet to be announced. If you're in Vegas, you can check them out at the Parrot CES booth. You can find it by following the loud buzzing sounds.