The world's first 4K resolution tablet from Panasonic, which debuted at CES this year, is set to hit the US just after the holiday season this coming January.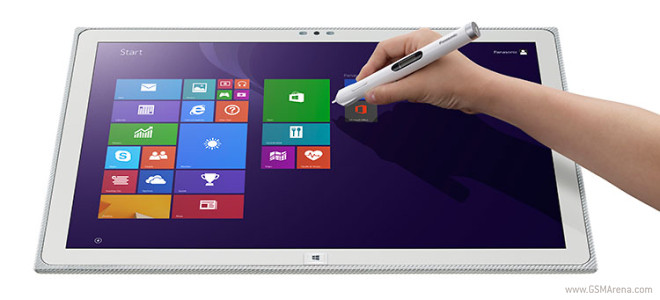 The tablet will miss the US holiday shopping bonanza, but at an MSRP of $5999 it's hard to see the 20-inch tablet as a stocking stuffer.
The Panasonic Toughpad 4K UT-MB5 features a 20-inch IPS display of 3840 x 2560 with a 15:10 aspect ratio. Inside, there's a 1.9GHz Intel Core i5 CPU with Turbo Boost up to 2.9GHz, Nvidia GeForce GT 745M GPU, 256GB SSD, 8GB RAM and a 720p capable webcam. There's also the full range of sensors, Bluetooth, Wi-Fi, and USB 3.0.
Most impressive, however, is the Windows 8-powered Toughpad's relatively compact dimensions. At 475mm x 332.7mm x 12.7mm, the Toughpad is all display, and the 2.4kg of weight isn't too shabby either. The rated 2 hours of battery life isn't as impressive, however.
Look for the Toughpad to his the US early next year. Meanwhile, check out this hands-on video we shot at this years' IFA.