In times when people are slowly starting to migrate from bigger 10-inch tablets to the more convenient 7-inch ones, Panasonic has decided to go the other way. And perhaps a bit too far, if I might add.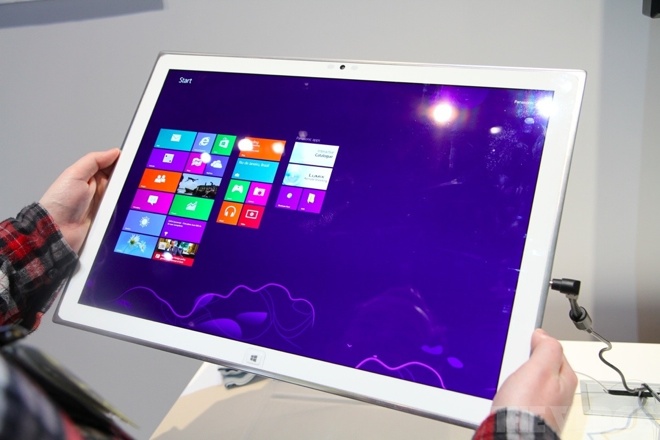 What you see above is Panasonic's latest 'tablet', a 20-inch monstrosity that has a mind-boggling 4K resolution display. And on the inside it's running on the full Windows 8 operating system.
Here are the full specs of the device:
Display: 20.0 inch IPS Alpha Panel
Resolution: 3840 x 2560 pixels (230 ppi): Approx. 16.77 million colors
Aspect Ratio: 15:10
OS: Windows 8 Pro 64 bit
CPU: Intel Core i5 3427U vPro 1.80 GHz
Graphics: NVIDIA GeForce Graphics
Memory: 4GB (max.16GB)
Flash Memory Drive (SSD): 128GB
Interface: High resolution digital pen (Anoto Live pen), Electrostatic multi-touchpanel (10 fingers)
Wireless: IEEE802.11a/b/g/n, Bluetooth v4.0
USB Port: USB2.0 x 1
Expansion Slots: microSD memory card slot x 1 (supports microSDXC memory card)
Embedded Camera: Resolution: HD 720P, Effective pixels: max. 1280×720 pixel
Battery Life: Approx. 2 hours (using internal battery)
Size: 18.7″ (W) x 13.1″ (D) x 0.4″ (H)
Weight: 5.3 lbs
The device is aimed at photographers, designers, architects and such. It remains to be see when it would be launched, what it would be priced at and who would want to lug around something so big with just two hours of battery life.
You can watch a hands-on video of the device here.