The Opera Dev team is on a roll. After releasing the latest version of their desktop browser the other day, the company has now updated both of its mobile solutions. Opera Mobile and Opera Mini got their versions 11.1 and 6.1 respectively.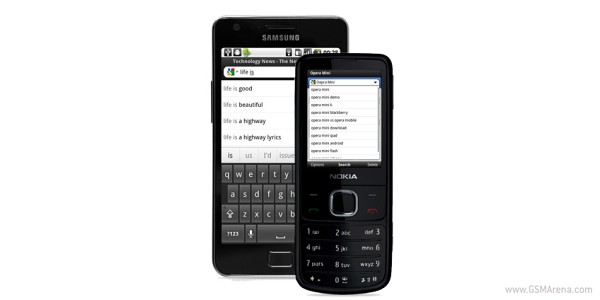 The updates focus on saving you some typing on those smartphone screens. You now get Search suggestions from Google and Yandex, plus smarter domain recognition in this version update. So with the Opera Mini 6.1 and Opera Mobile 11.1 you won't need to type the whole search query most of the time, just a few letters of it with the automatic suggestions taking care of the rest.
According to the developers with this update the Opera Mini and Opera Mobile browsers will also be able to adapt to your surfing habits. With the new top-level domain learning feature, new top-level domains such as .uk, .ru and .id are picked up by the browser so they can also be automatically filled-in for you next around.
The Opera Mini 6.1 and Mobile 11.1 are already available for free download at m.opera.com and in the Android Market so you can grab your update right away. There's no information on the Opera Mini availability in the App Store though.