Opera has long held the top spot in mobile browsers and is still highly popular (especially Mini, which is the browser of choice in developing countries). According to StatCounter its reign has come to an end, with the two popular smartphone OSes battling for first spot.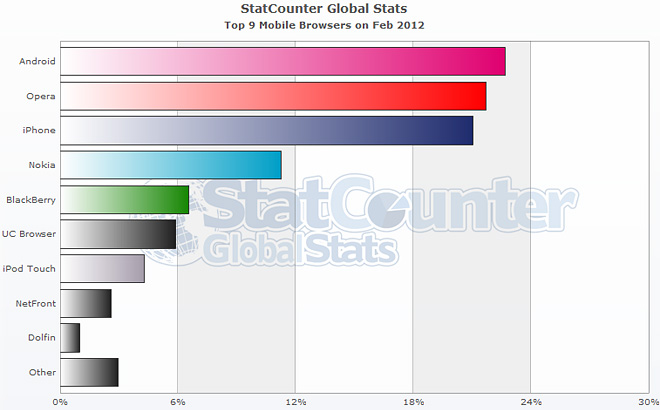 StatCounter has Android's browser on top, but they treat iPhone and iPod as separate. Add them up and Mobile Safari climbs on top.
In fact, looking at the data for January this year, Mobile Safari has been on top for over a month now with Android a close second.
To be fair, Android-powered media players like the Samsung Galaxy Player 70 are quite rare, so perhaps StatCounter is right to treat iPod as a separate platform. Either way, Opera is a solid third.
Here's the changes in market share for the browsers over time: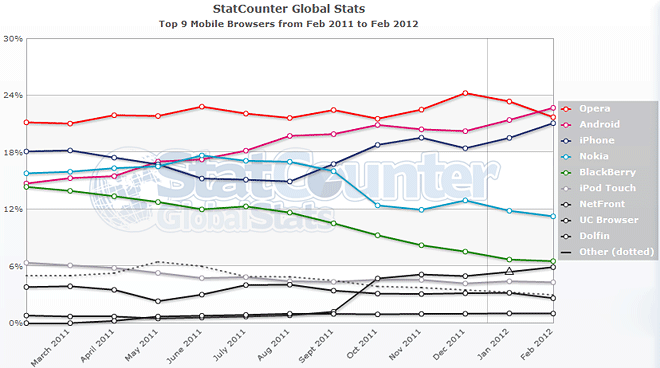 Surprisingly, UC Browser has been seeing impressive growth over the last half an year or so. UC Browser compresses pages on a server before sending them to the phone (just like Opera Mini) and is available for practically every platform under the sun (even the now defunct WebOS that Mini doesn't support).
Meanwhile, both Nokia's and BlackBerry's browser have continued their downward trend and Windows Phone's Internet Explorer still falls under "Other".