OnePlus, the Chinese team behind the famous OnePlus One smartphone is definitely no stranger to promotions. After a more than interesting social-retail campaign for Black Friday and another one for the company's one year anniversary the team is now happy to announce that their Twitter account officially reached 200,000 followers.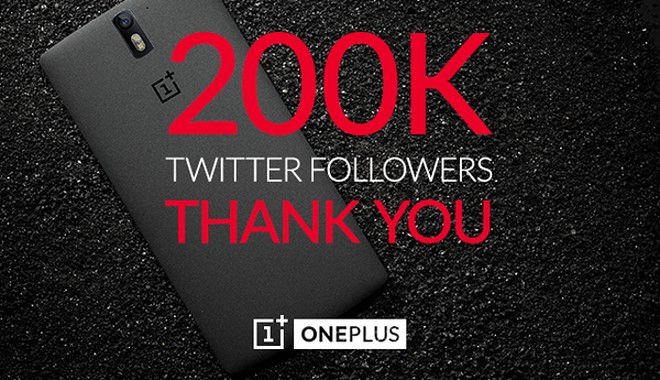 Naturally this is an opportunity to celebrate and what better way than giving out 20,000 free invites to purchase the OnePlus One handset. The small, start-up style company has been battling to handle the massive interest towards their device by implementing an invite purchase system. The smartphone is also available through outer retailers, but the price is usually a bit higher. On rare occasion like this you have a chance to snatch one straight from the source.
The OnePlus One is one beast of a device for its price tag. It is powered by a Snapdragon 801 SoC and is equipped with 3GB of RAM and an Adreno 330 GPU. The screen is equally tantalizing at 5.5-inches and with Full HD resolution and 401 ppi. The device runs on CyanogenMod out of the box and offers amazing bang for the buck.
With news of an upcoming successor to the smartphone the team seems to be working extra hard to please customers and earn much needed publicity mostly through social exposure.
So if you are on the lookout for a new Android smartphone and have your sight on the elusive OnePlus One, be sure to go to this address and act quick for a chance to purchase the 16GB Silk White or a 64GB Sandstone Black model for $299 or $349 respectively.