OnePlus is a young company but still lived up to quite a successful 2014. To give you a an interesting perspective of its performance and reveal a bit of info about its operations worldwide, OnePlus outed an annual report for 2014 in the form of an interesting infographic.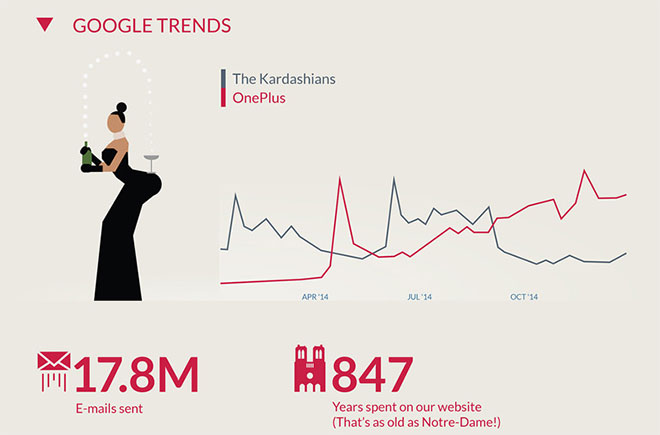 The company boasts a revenue of more than $300 million from June to December last year shipping 1,055 tons of merchandise (the equivalent of 6 whales). In November, the company boasted 500,000 OnePlus One smartphones sold, but by the end of the year targeted 1 million units. It's not clear if it reached that milestone, though.
Still, OnePlus reached 1,1 million Facebook fans and, as it happens, is trendier than the Kardashians in terms of Google searches. The company's growth isn't just on the Internet, however, as the OnePlus team grew to 88 people in December 2014, up from just 6 a year ago.
The team has an average the age of 25 and has eaten 134 pizzas and spent 52 Saturdays at the office working an average of 12 hours a day. That's quite the dedicated team. Here's the full infographic for your viewing pleasure.