The controversy surrounding the OnePlus One smartphone seems to be a never-ending industry topic. We sat down with Carl Pei, Director of OnePlus Global, in an attempt to clarify some of these burning questions that are setting our editorial mailbox on fire these days.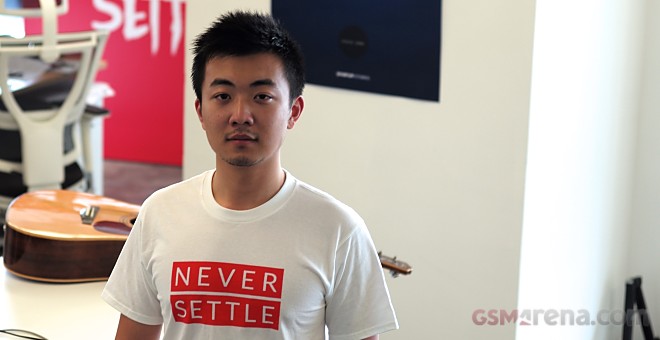 OnePlus is a young Chinese mobile phone manufacturer who already managed to make a splash even before their first product was out. Thanks to clever online marketing, each one of their product teasers made the headlines across the world with promises for a disruptive smartphone with high-end specs and unseen before pricing.
Of course, with expectations running so high, once the OnePlus One smartphone hit the market there were bound to be disappointed users along with the happy ones.
To make matters worse, the smartphone is still playing hard to get with only the few people who possess the privileged right of an invite being allowed to purchase the device. That certainly played out well as people are always bound to crave something that they can't readily have.
I first met Carl back when he was hard at work making a name for Oppo – and quite successfully at that. Now he has focused his energy into turning OnePlus into an (at least) equal success.
Carl is composed and outspoken and behind his easy going smile, he's a creative professional with broad knowledge across various industry subjects and some really sharp thinking. I am more than curious to see how the OnePlus will turn out with his guidance. But I digress. On with the interview…
GSMArena: Carl, to start off, we would like to ask you to present yourselves for our readers in a couple of sentences? How old are you, what sort of a position do you have at OnePlus and what was your last job before getting involved with the company?
C.Pei: I've been a phone nerd for as long as I remember. Sony Ericsson T610 was a phone that I really enjoyed customizing, designing my own themes and even winning awards for it. Motorola A780 was my first smartphone. Back then, there was quite a big community around this phone, where we would find new ways of using it together.
I'm 25 this year; I met our CEO Pete two years ago. I've always been entrepreneurial, and prior to meeting Pete I had started a few smaller ventures of my own, as well as worked for some time within the smartphone industry. At first, we got to know each other through chatting online, and eventually decided to meet up. Back then, Pete was a Vice President at Oppo. Thinking back to our first meeting, I was quite naive. I said I wanted to change the world, and I think the boldness left him with an impression.
Nowadays, he likes to tell this story to others. I made an action plan, it got approved, and we went to work. At Oppo, I was responsible for global marketing, PR, as well as e­commerce. When Pete decided to start OnePlus, I immediately joined as Director of OnePlus Global.
GSMArena: If you don't mind asking this sort of a personal question, why did you personally move to a startup gamble such as OnePlus after enjoying a stable position at a manufacturer on the rise such as Oppo?
C.Pei: You have a lot of freedom to execute on your own ideas when starting fresh. Smart technology is so connected, and therefore we think most people will purchase their devices online in the future. That way, a lot of retail and marketing costs are spared, allowing us to create a better product for much less than the competition. In the end it's the consumer that wins, and it feels exciting to be leading this change.
GSMArena: Where do you stand right now in terms of the OnePlus One product cycle?
C.Pei: We've planned for our flagship series to refresh roughly once a year, and we're currently still in the ramp up phase of the One. There's a lot of risk for hardware startups that don't apply to software, with the main issue being cashflow and inventory risks. We need to be conservative, as survival is our biggest challenge this year.
GSMArena: Did you plan for the current shortage of OnePlus Ones? We can't help but suspect that this whole thing is merely a marketing strategy that you have implemented – unveil the product early and keep it out of reach of the general public to promote unusual demand, while in the same time releasing limited units just so people don't lose interest?
C.Pei: Our dream is to have as many people enjoy our products as possible, and shortage is not something that benefits us. That said, we need to scale our company in tune with the demand, and this may take some time. When we designed the invite system, it was to let us control inventory while we scale up as there were a lot of unknown issues we knew we had to learn to deal with as we grew. We've sent out a lot more invites recently, and this has put enormous pressure on customer support. The user experience is now less than stellar, and getting a response may take a few days. We also recognize that the shortage of stock has led to the One being perceived as more scarce, which has led to side effects such as scalpers re­selling the phone for a profit, or the emergence of different types of conspiracy theories about OnePlus.
GSMArena: Given the current state of the OnePlus One availability, with all the delays and limited shipments, can you give us a more specific estimate when the smartphone will finally be widely available for everyone to get it? In fact, do you plan at all to make it a mass product?
C.Pei: It really depends what you mean by general availability. If we're talking shipments, we've already outsold many mobile hardware startups that have had head starts compared to us. However, looking at our metrics, we see that demand keeps growing for every device we ship. This is the opposite of what would happen in a traditional case, and is both scary and exciting for us. We have been working to scale up, and July saw large increases in availability, with August's plans larger still. At the same time, we are working on a pre­order system to provide another way to purchase this device. If there's one thing we've learned, it's that scaling isn't easy.
GSMArena: Do you make profit off the OnePlus One at this price point? If no, do you see yourselves breaking even with it?
C.Pei: Right now we're breaking even on the product itself. When we cross half a million in shipments, we'll see a small positive gross margin on the product. However, this is all before taking into account other costs like personnel or office space. Our goal for the first two years is not to make a lot of money, but rather to get our name out there as a company with an intense focus on quality products.
GSMArena: Where does the initial investment for OnePlus come from? Is there any major phone manufacturer involved in the financial backing of the OnePlus project?
C.Pei: Our initial investment came from the same fund that originally invested in Oppo Mobile. Contrary to some theories, we are not owned by Oppo Mobile. We are run separately and will consider new sources of investment later this year.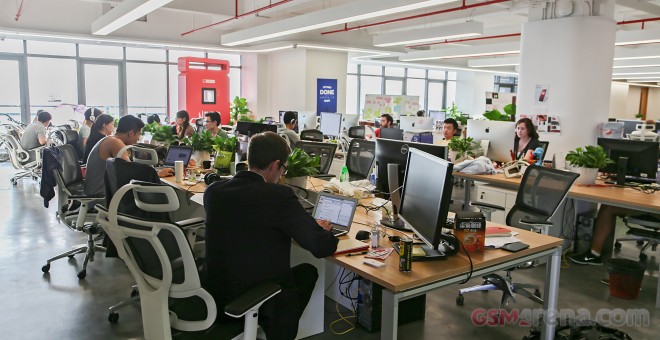 GSMArena: What is Oppo's involvement in the OnePlus One? We've heard that you use their manufacturing lines, you also use their Color OS for the Chinese market. Many people are starting to suspect that establishing a separate "startup" such as OnePlus is in fact a clever marketing strategy for creating a more affordable subbrand for the otherwise premium positioned Oppo product line?
C.Pei: We use Oppo as a contract manufacturer, and distributed the One with ColorOS in China. They get access to new users, and we get a ROM to run on our phone. There was no chance for us to create our own OS and ship within such an aggressive time frame. Looking forward, this will change. We're actively setting up our own software engineering team in Taiwan, and planning has already begun for what's next.
GSMArena: When can we expect to see the OnePlus successor? The 5.5″ is an increasingly popular screen size, but there are still enough people in the search for more compact smartphones ­ are we likely to see a mini One in the future?
C.Pei: Our flagship range will still have a similar form factor for the foreseeable future. Other product lines may not. In 2014 however, our focus is solely on the One.
GSMArena: Lately we've been getting user requests to report on an issue with OnePlus One display where there would be a noticeable yellowish band at the bottom part of the screen where the backlight is supposedly placed. Since it's a matter of the screen reproducing uneven levels of white, it cannot be corrected via software optimizations, which apply to the whole screen. They reach out to us with the hope that this would pressure you as a manufacturer to take more favorable actions about it. Now we are aware that the problem is probably blown out of proportion. But the fact of the matter is we heard reports that you may be charging people for shipping&handling concerning the returning of the phone for display replacement back to China even though shipping&handling is covered by the warranty coverage as published on your website or even refuse display replacement altogether. What's your personal comment on that situation and what is the official policy of OnePlus in dealing with customers who report having this issue just so we can publish it for everybody to know?
C.Pei: Thanks for giving me a chance to address this. There seem to be many issues at play here. Adhesive that hasn't dried is one, but it's also affected by software calibration, screen type, and inherent product design issues.
Software calibration is an issue that will be resolved in an OTA coming in a few days, so that will help some people.
If we're talking about the design issues, it's about how LCD backlights are positioned and placed. Looking closely at different LCD smartphone displays, it's possible to reproduce this on many smartphone displays on the market. Other than software calibration for different screen tones, there are minimal differences between our displays. These are not quality issues, and are not covered by warranty.
Anyone who isn't satisfied is more than welcome to send it back to us for a refund, as replacing it wouldn't solve the problem.
In the beginning, we wanted to help picking up the device, but later realized that most people preferred sending it back themselves, which is much cheaper. Devices need to be returned to their local warehouse and not to China.
Due to the way we've chosen to market ourselves, we've attracted a group of internet savvy users. This means that both positive and negative issues will be blown out of proportion, compared to that of a traditional brand. This is great. We receive feedback quickly and bluntly, forcing us to think really hard and pushing us to improve. As I mentioned previously, customer support is under very heavy load. So if you're trying to get in touch, please don't think we're ignoring you. Give us some time, and we'll get to every issue. Give us some more time, and we'll scale this up properly.
GSMArena: As a follow up on that last question, at what stage is OnePlus currently in regards to setting up a network of certified service centers outside of China (and more specifically in the Western markets)? What are your future plans in this respect?
C.Pei: We are looking at this, and it will most likely be a slow roll out one market at a time. If we can survive past 2014, we should have a mature network of service centers operational within a few years time.
That's about it. Thank you for your time, Carl. We appreciate the honest conversation.