The Nvidia GeForce GTX 980M and GTX 970M went official today offering superior performance over the Kepler series of GPU they replace. The GTX 980M and and GTX 970M use the company's latest Maxwell graphics architecture, which also powers the company's latest desktop GPU line-up.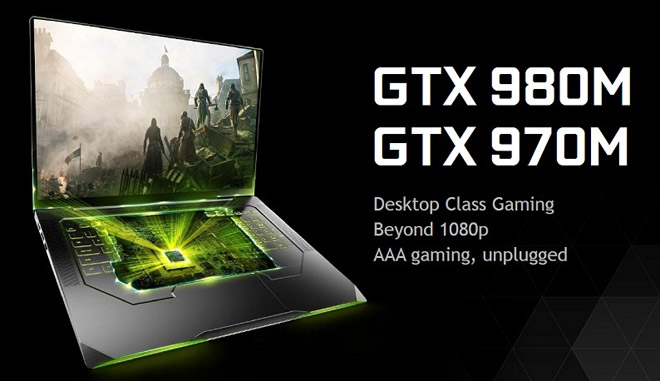 Thanks to the Maxwell architecture, the two mobile GPUs are more power efficient and offer greater performance. The GTX 980M and GTX 970M feature 1536 and 1280 CUDA cores, respectively. Naturally, the GTX 980 is the more powerful one with a GPU base clock of 1038MHz, while the 970M is clocked at 924MHz.
The mobile GPUs are built on the 28nm manufacturing process and feature up to 8GB of GDDR5 RAM and up to 6GB of GDDR5 VRAM for the GTX 970M and GTX 980M, respectively. The 980M is more power hungry than its less powerful brother with a TDP of 125 Watts against 95 Watts.
Nvidia claims its BatteryBoost technology gives you up to 55% of additional play time by monitoring game's frame rate and adjusting the power the GPU gives out. Furthermore, the GPU's offer Dynamic Super Resolution (DSR) and Multi-Sample Anti-Aliasing (MFAA), Nvidia's ambitious Voxel Cone Tracing (VXGI) technology, VR Direct enhancements targeted at virtual reality head-mounted Display (VRHMD) users, and DirectX 12 compatibility.