After yesterday's map data update, Nokia's Here team has some more news for us today – namely, that the Here maps app for Android has now left the beta state. As of the latest update to the app, which is already live in the Google Play Store, the beta tag has been put to rest.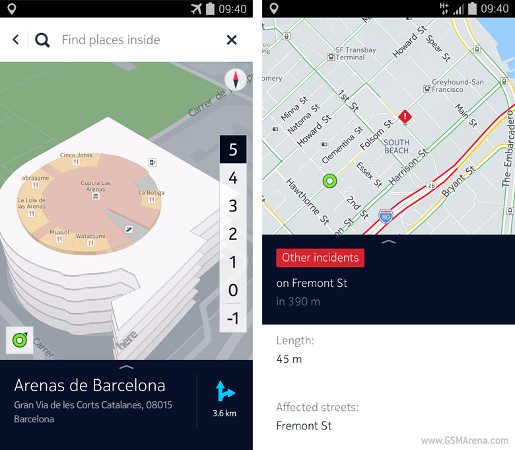 So it looks like Nokia now feels very confident about the stability and performance of its app on Google's mobile operating system. The update brings with it some new things, naturally.
Among those are interactive 3D maps of shopping centers and airports in 70 countries, and an improved route planner that gives you driving, public transport, and walking routes on the same screen so you can quickly pick what best suits you. Any place icon on the map is going to show you more information when you tap on it, and you'll get information about what's causing traffic jams.
Background downloads for offline maps are now possible, and voices can be stored on the SD card. The volume for turn-by-turn navigation directions has been increased following user complaints that it was too low, and support for devices with 64-bit chipsets has been added. Of course many unnamed bug fixes are bound to be in as well.
Interestingly, Nokia's official blog post regarding the app's graduation from beta also talks about an iOS version being on the way. This is apparently "almost here", whatever that may mean. So if you wanted to use the Here maps app on Apple's platform, you may be able to do that pretty soon.