Today Nokia has announced a new map data update for its Here apps for Windows Phone and Android. This isn't an app update per se, but rather an update to the underlying information that the apps use. So if you've downloaded maps in Here for offline use, you'll need to update those to get all the new perks. Otherwise, if you're only using Here in online mode, you'll see the changes automatically.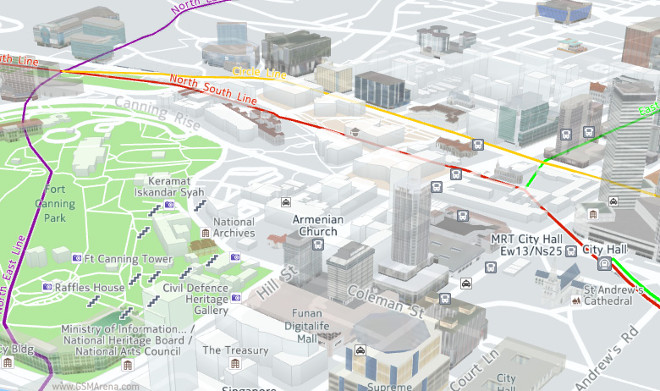 You should get an update notification at some point, regardless of which mobile platform you use. Of course you can also manually trigger the download by going to Here's settings (on Android) or, on Windows Phone, to Settings > Applications > Maps.
Cyprus, Mayotte, and Zimbabwe are now fully navigable, which means you can use turn-by-turn directions anywhere across their territories. Also, significant updates have been made to the maps for Comoros, Djibouti, Eritrea, Fiji, Gambia, Liberia, Madagascar, Sierra Leone, and Somalia.
More small ponds, lakes, and rivers are now shown in Here maps, and an improved view of public transport lines has come to Kaohsiung, Taipei, Curitiba, Rio de Janeiro, São Paulo and Singapore. This debuted a while back with a trial run for Chicago. It means you can now more accurately trace the paths of subways, trains, and trams – as seen in the image above. Hopefully this system will soon fully replace the old way of displaying straight lines, which normally don't reflect the situation on (or below) the ground at all.