NFC is gaining more ground and here at Nokia World, we caught a glimpse of something quite intriguing – an NFC Tag writer application for Symbian.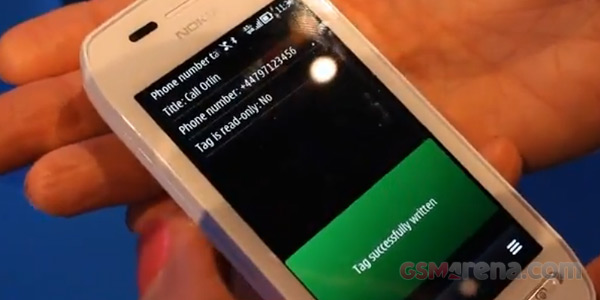 It allows you to quickly transfer various information and even actions to a blank, writable NFC tag. After you do that and the chosen action or piece of information is transferred, you simply touch the NFC tag with any another NFC-enabled phone, and the information on it is automatically transferred.
Check out how it works.
Impressive technology in action! The full scope of the potential applications is yet to take shape. Imagine putting your SatNav-enabled phone on your car's dashboard next to an appropriate NFC sticker tag and your phone getting automatically into Navigation mode with Bluetooth turning on for hands-free call handling. Or imagine, pitting your phone on a custom NFC tag on your working desk, that makes it automatically tune in to your favorite online radio and lower the ringing volume. Or imagine tapping a sticker at your favorite cafe that checks you in on Foursquare or Google Latitude. And the list goes on.
If that sort of things get you interested, but you don't own a Symbian phone, you can get one of the available apps from the Android Market as well. To make use of those, you'll need an Android smartphone of version 2.3.3 and above (and a built-in NFC chip, of course).
I googled some nice places to buy blank NFC tags and it seems BuyNFCTags.com and TagAge.net are two of those. At least, it's a start.