At the Nokia Lumia 1520 announcement in Abu Dabi, the Finns spent quite a lot of time praising the phablet's screen – a 6″ ClearBlack IPS LCD with Apica's Assertive display technology. It essentially brings the screen's sunlight legibility capabilities to a whole new level, without draining the battery while doing so.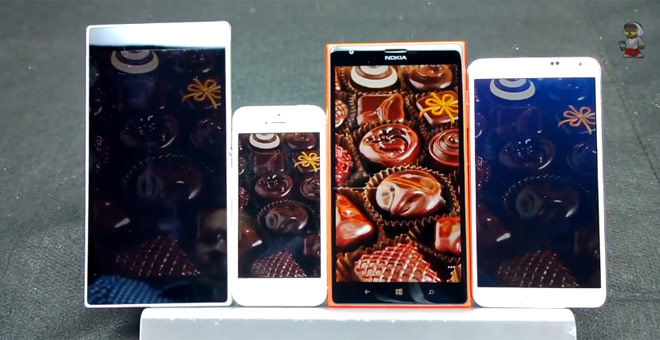 To show just how good the technology actually is, YouTube reviewers from GadgetBoys have put the Lumia 1520 next to the the Sony Xperia Z Ultra, the Samsung Galaxy Note 3 and the iPhone 5s for a mouth-watering show-off.
All phones get tested in both good and low lighting conditions with their displays turned up to 100% brightness. Check out how the Lumia 1520′s screen with the Assertive display technology manages to outperform the competition in the video below.
As you can see, the Xperia Z Ultra's Triluminous display gets blown out of the water, as does the iPhone 5s' IPS display. Even the Galaxy Note 3′s Super AMOLED screen doesn't manage to hold a candle to the brightness and clarity of the Lumia 1520′s display.
We've also got a detailed Nokia Lumia 1520 hands-on with live photos for you to check out.