The Nokia Lumia 1320 is considered the cheap man's Lumia 1520, but that doesn't make it less important than its high-end sibling. In fact, recently it was exactly Nokia's more affordable devices that have been moving its business forward. Okay, technically, it's now Microsoft's business, but let's stay on topic.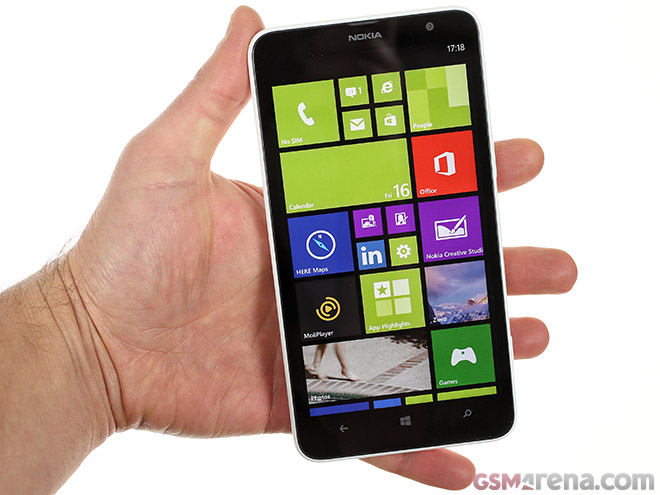 At the front, the Lumia 1320 boasts a 720p 6″ IPS ClearBlack display. It's bright and boasts great colors, but you can notice that it's not as sharp as the Lumia 1520′s equally-sized, but higher resolution screen. The cutback is understandable though, Nokia needs a mid-range runner who can quickly catch up to the likes of the Samsung Galaxy Mega 6.3.
The large screen translates to a big, clunky body, which measures 9.8mm thick – almost 2mm thicker than the Galaxy Mega 6.3. Granted, it's not as slim as the Lumia 1520 either, but the Lumia 1320 still doesn't feel too brick-like. In fact, don't let the raw numbers fool you, because in the hand the difference, while noticeable, isn't as huge as those numbers suggest.
The design of the 1320 isn't too different from the rest of the Lumia range and we're quite fond of it. The back cover pops up easily and can be replaced with a differently colored on to create a whole new feel for the phone.
Sadly, the 3,400 mAh Li-Ion battery isn't removable, but according to Nokia's official estimation can last up to 21 hours of 3G talk time and nearly 100 hours of music playback so you probably wouldn't need to anyway. We'll test the battery in the upcoming days as we're preparing the full review of the phone.
The Lumia 1320 is powered by a a dual-core 1.7GHz Snapdragon 400 processor with 1GB of RAM, which is plenty for Windows Phone 8 that rocks the GDR3 update. Everything runs smoothly with gaming and HD movie playback not being an issue for the chipset. The internal memory is 8GB, but fret not as the microSD card slot enables up to 64GB of expansion.
In addition to the GDR3 update, the Lumia 1320 comes with the Nokia Black update. This brings the cool Glance screen, which shows you the time and pending notifications. Check out the Lumia 1320 in the flesh in our hands-on video below as well as an overview of WP8.
We're hard at work on our full review of the Lumia 1320, so stay tuned!