AdDuplex is back with its monthly report on the Windows Phone situation. We're seeing the first steps of the new Nokia Lumia 1020 flagship, which seems to be outsekkubg its Lumia 928 sibling but is still too young (just a few weeks on sale) for any more detailed numbers.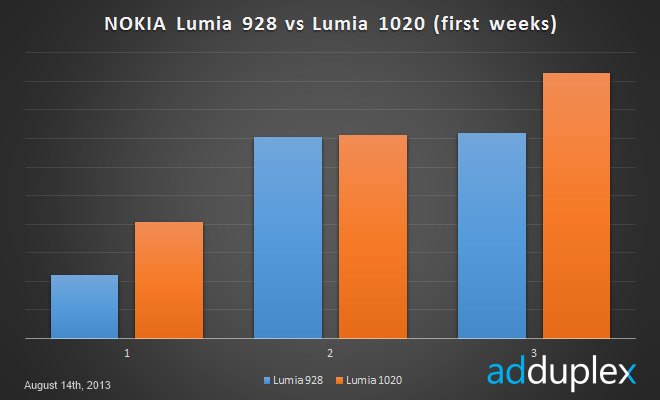 There are only two companies of note when it comes to Windows Phone – Nokia with about 87% of the market and HTC with about 10%. But this doesn't mean the WP market is unified.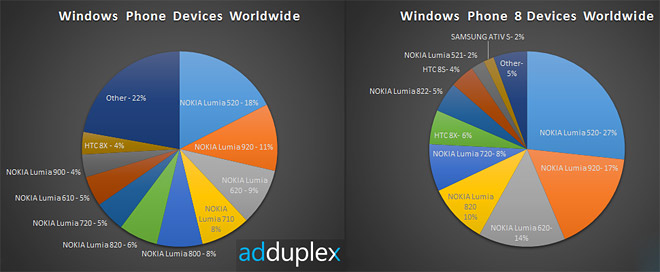 There are three dividing lines in the Windows Phone world. The first one is between version 7 and version 8 of the OS and another one between stock WP8. The deprecated Windows Phone 7 still has over a third of the market.
The second is GDR2 adoption is just barely starting with only 3%, but I suspect this number will be a lot bigger in the coming months now that Nokia has unleashed the Amber update (which is built on top of GDR2).
Third is the 512MB RAM vs. 1GB RAM divide in WP8. Only a few apps and games don't run on 512MB devices but they are missing over half the market – small surprise when you consider the Lumia 520 alone holds 27% of the WP8 market share.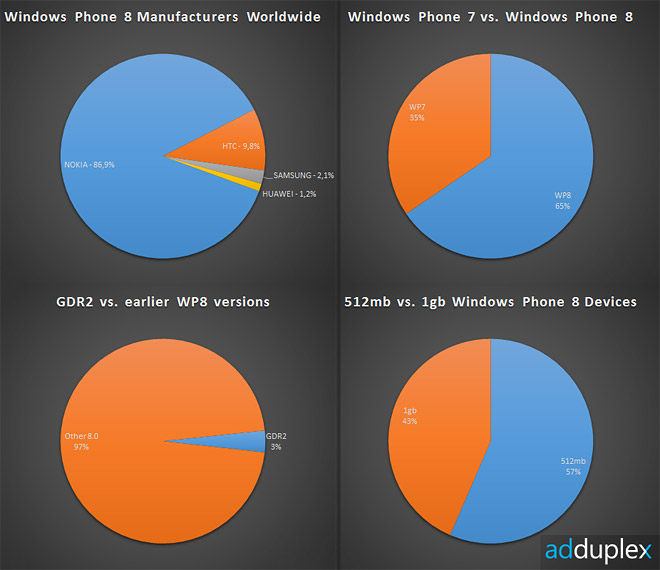 The Nokia Lumia 520 is the most popular Windows Phone device for any version by quite some margin. The Lumia 1020 flagship meanwhile sits at number 32 in general and number 16 in WP8.
AdDuplex also looked at individual countries. Verizon and its Lumia 822 still rule the US market with AT&T and Lumia 920 coming in second. T-Mobile's Lumia 521 is growing fast and AT&T's 520 is expected to break into the top 10 next month.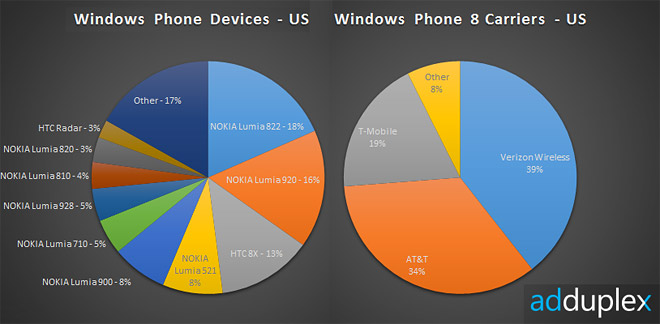 France used to be dominated by HTC (the HTC 8S specifically), but the Nokia Lumia 520 has taken its crown. Sweden is where the Lumia 920 shines, with the original Lumia 800 coming in second (Nokia's first WP phone is #1 in the Baltics too).
The Lumia 520 is enjoying even more love than usual in India and the 720 hopped over the 620. This is encouraging news for the large-screened Lumia 625, which is already in the top 10 in Thailand. Finally, Argentina is an odd market – the Lumia 710 controls most of the market, with the 620 and 900 leaving almost no room for other WP handsets.
You can check out the AdDuplex post for more info and charts on the Windows Phone landscape.