Which is the most popular, Windows Phone handset you ask? The Nokia Lumia 520 is after raising from fifth place a month ago according to numbers by AdDuplex. The entry-level handset holds 13.3% of the worldwide WP market, ahead of the flagship Lumia 920′s 11.8% (the 925, 928 and 1020 are too new to have made a dent).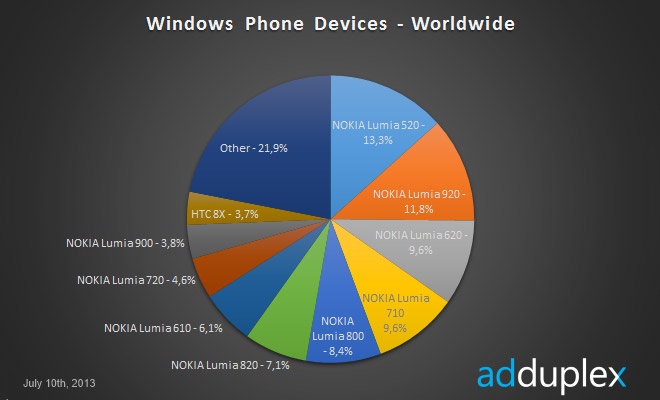 The climb of the modest Lumia 520 was rapid – it gained percentage points by the week. Meanwhile Windows Phone 7 devices are on the way out, but still make up a significant portion of the install base.
Worldwide Nokia is the undeniable Windows Phone ruler – it owns over 85% of the market. Second is HTC with just over 11%, while Samsung and Huawei barely register. About 60% of devices run WP8, the remainder is on WP7 (those phones can't be updated to WP8).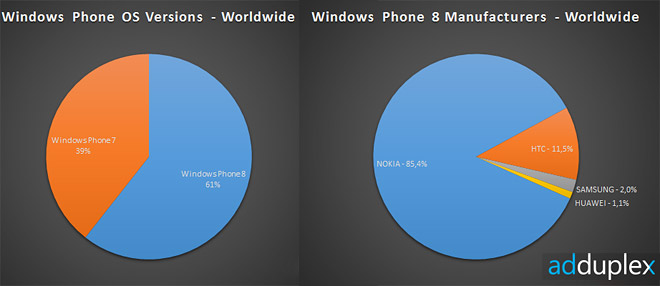 The Nokia Lumia 620, a slightly more advanced handset than the 520 ties with an outgoing mid-rangel phone, the Lumia 710, for third place. The first non-Nokia device on the scale is the HTC 8X.
The US market is ahead of the curve with a higher WP8 to WP7 ratio and showing a strong preference for the high-end models – the Lumia 822, 920, HTC 8X and Lumia 900 cover over half of the market. Things in the Netherlands are similar.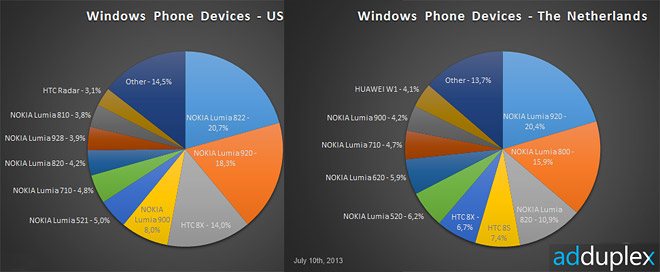 In the UK, the picture is different though – it's the WP7-powered Lumia 800 on top and low- to mid-range devices covering most of the market. Poland also likes its low- to mid-range phones with a noticeable WP7 presence and is the only country in the study that has HTC ahead of Nokia.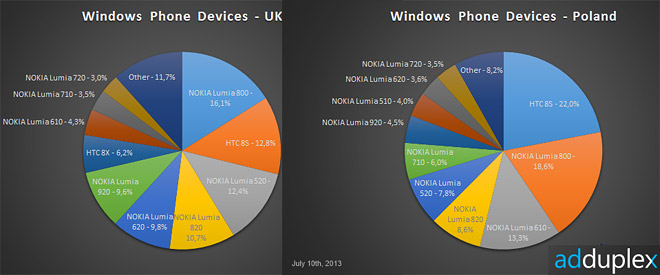 Russia and Africa show an even mix across the spectrum of devices, while India and Brazil are heavily skewed towards a single device. The Nokia Lumia 710 has a whopping 40% cut of the Windows Phone market in Brazil (it's actually down from 57% in February). The world's #1, Lumia 520, holds over 30% of the market in India (up from 20.8% last month).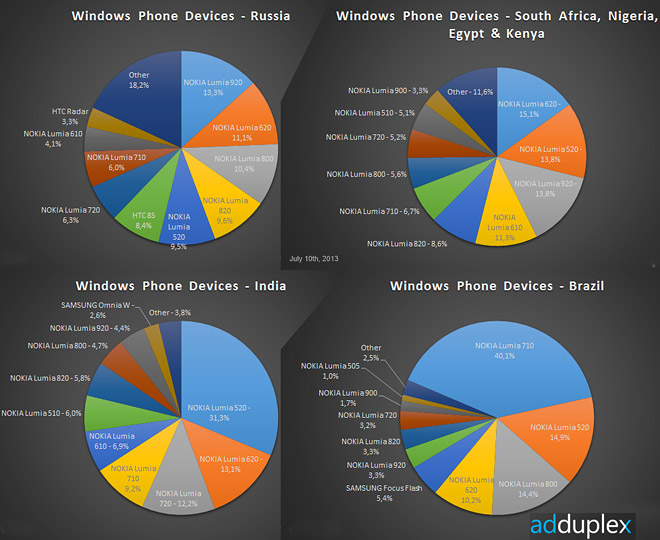 You can read more details about the stats here.