The Nexus 10 a little old now (it wasn't updated along with the 7″ model) but you can get a great deal for it – $350 for the 32GB Wi-Fi only model. Keep in mind that the Play Store is selling the 16GB version for $400, the 32GB is $500.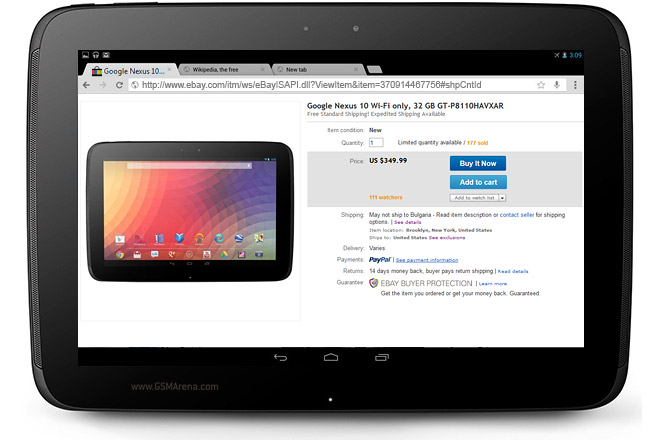 That $400 iPad 2 doesn't sound like such a good deal now, does it? Not that it ever did, but even the 32GB iPad Air for $600 sounds pricy in comparison too.
The deal is on eBay and the seller ships only to the US (the rest of the world has a tough time getting Nexus devices at a good price, doesn't it?). Anyway, 177 have been sold and there's a limited quantity left.
The Nexus 10, as I said, is getting old but the 10.1″ 299ppi screen is still one of the best you can get and the dual-core Cortex-A15 CPU / Mali-604T GPU is a potent enough combo. Plus, you get timely releases of pure Android, not something that can be said about the Kindle Fire HDX 8.9 ($380 for 16GB model with ads).