Windows 9 is close to announcement (September 30) and the leaks of some of the new features have already started cropping up. Today's leak shows us something that looks like a centralized Notifications center and a new Multi-Desktops feature.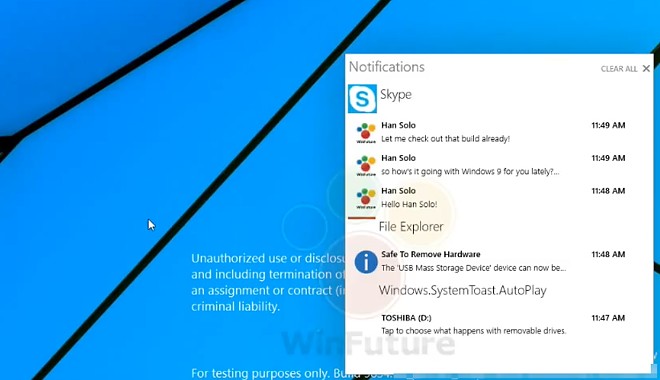 We already showed you the leaked video of the revamped Start menu, but this time the same source has shared demos of the new Notification center and the Multi-Desktop feature, which will be part of the new edition of Windows.
This demo is reportedly based on Windows 9 Technical Preview version, so the look and feel of these features is anything but final. We recently saw a bunch of screenshots showing these and other new features.
Also here's another video demo, which shows another new feature – the Multi-Desktops, which offers multiple homescreen tabs, each its own opened program windows.
So far things are shaping up quiet nicely for the upcoming OS release. It certainly provides fixes to some of recurring criticisms of Windows 8, but we have yet to see whether the genuinely new features are worth the paid upgrade.