Motorola has just announced its Valentine's Day promotion. If you buy from the phone maker's website directly, you'll be able to save as much as $140 for a purchase of at least $499.99. The details are a little bit complicated however.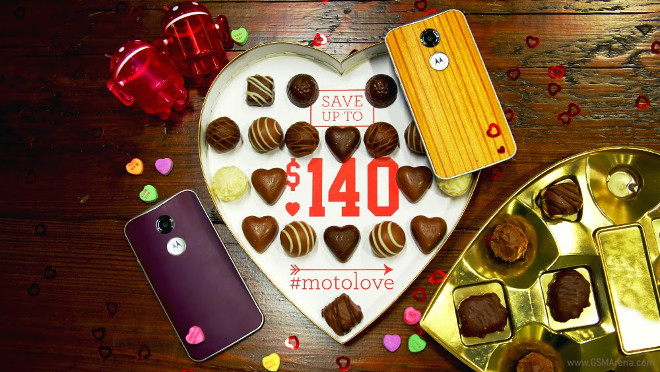 It all starts on February 2 at 11 am CT. From that time and until 11:59 pm CT on the same day, you'll be able to register for a promo code worth $140 for a $499.99 purchase, or $50 off a purchase of at least $249.99.
If you don't get such a promo code, then you can try again on February 3, though the deals available on this day won't be as good. The maximum savings will be $100 for a $499.99 order or $35 if you buy goods totaling at least $249.99. You can buy anything you want to take advantage of the deal, except the Nexus 6, Republic Wireless' version of the 2nd generation Moto X, and Motorola's Extended Service Plan.
Some restrictions apply for the other devices too. There's a limit of two per customer when it comes to the Moto X (2014), Moto G (2014), Moto G 4G, Moto E, and Moto 360. If you have successfully registered for a promo code, you'll be able to apply it until 10:59 pm CT on February 14. This is the special website at which you can register starting on February 2.