The deal of the day (and possibly even the week) comes from Motorola. The company is offering you a free 3G Moto E (2nd generation). All you have to do to get it for nothing is buy a Moto X (2014) Pure Edition straight from its maker.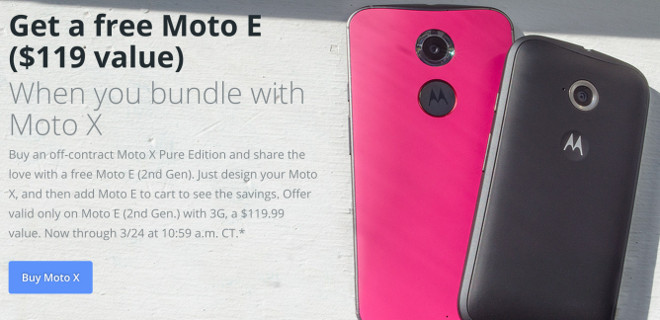 So you first design your Moto X the way you like it, and when you're finished with that just add the Moto E to your cart. At this point the savings should automatically appear, transforming the Moto E's price into $0. The only (pretty huge) caveat is that the Moto X you purchase will have to be off-contract.
That's right, devices sold with bundled carrier agreements aren't eligible for the free Moto E offer, sadly. So you'll need to pay the full price for the Moto X, which currently retails for $499.99. The free Moto E is still a $119.99 value, even so. The deal is now live on Motorola's website, and it will be valid until March 24 at 10:59 am CT.