After DROID comes DROID 2. Logical, huh? Motorola's newest Android-powered smartphone, the DROID 2, has already made several public appearances without its parents' permission so it was high time that the company finally announced it officially.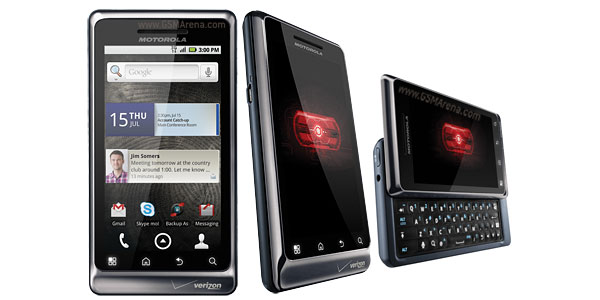 As a matter of fact, Motorola's press release (see the source link) reveals much less than the numerous leaks starring DROID 2.
Yeap, it's much more powerful than the original DROID (known as Motorola MILESTONE on these shores). And a bit sexier, too. On top of that, the DROID 2 comes with a MOTOBLUR-ed Froyo. Along with the other goodies the Android 2.2 comes with, it also brings along a Flash-capable web browser! And that the real 10.1 Flash player deal, not Flash Lite.
The Motorola DROID 2 features a 1GHz processor (nearly twice as fast as the first DROID), double the RAM amount (512MB instead of 256MB) and 8GB of built-in storage (an 8GB microSD card is also included).
In addition the QWERTY keyboard has undergone a total make over. The D-pad is gone (it's place has been taken by four separate arrow buttons) so now there is much more space for the rest of the keys. The result is a way comfier hardware keyboard.
By the way, if you want, you can turn the DROID 2 into a Wi-Fi hotspot and make it share your Internet access with up to 5 more Wi-Fi-capable devices. That doesn't come for free, though. It will set you back another 20 US dollars a month. Ouch!
Oh, and one more thing. A DROID 2 R2-D2 special edition will be released in September. A limited number of DROID 2 phones will be redesigned to look like the R2-D2 and will pack exclusive Star Wars content.
DROID 2 pre-sale starts tomorrow and the day after that, August 12, should see the device hitting all Verizon Wireless stores. The Motorola DROID 2 is said to cost 200 US dollars (after a 100-US-dollar mail-in rebate with a new 2-year contract).
There is no word from Motorola if and when an European DROID 2 version will be launched.