A proper MeeGo device is still nowhere in sight, but the Aava phone is the next best thing – it's a developer platform, meaning intended mostly for MeeGo developers rather than customers, but it gives us a look at how the MeeGo OS and MeeGo-powered devices might look.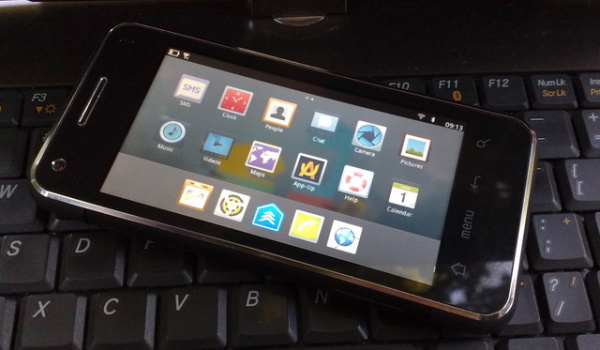 There's a lengthy video review along with an extensive photo shoot of the Aava phone running MeeGo 1.1. A lot of the things aren't working yet, but there's still quite some time before the market launch…
Like I said, this Aava phone is not meant for consumers and it shows – many things (volume keys included) still aren't working. The software needs plenty of work too – but the things that work look rather impressive.
The Aava phone is powered by the Moorestown platform with a 1.5GHz Intel Atom based processor – so, in terms of computational power it's about equal to a netbook. The Firefox Mobile browser (ex Fennec) goes through the SunSpider JavaScript test in about 4.2 seconds, while a netbook running Chrome manages it in about 2 seconds (of course, Chrome is much faster than desktop Firefox, so it's not really a fair comparison).
On the other hand, the Android 2.2 Froyo browser finished in 5.8 seconds, ahead of the 10.9 seconds that the iPhone 4 got. The pure number crunching power of the Moorestown platform shows, but I have to wonder what kind of effect this will have on the battery.
Firefox Mobile even managed to run desktop Google Docs, which is outside the capabilities of even the new Android browser.
Anyway, MeeGo looks great so far but there's a great deal of work left – hopefully, it will be more complete for the MeeGo summit in November. However, this doesn't bode well for the possibility that we'll see a MeeGo phone this year – you can probably install it on the Nokia N900, but it's not worth it right now.
Source: Carrypad, UMPCPortal