It's hard to say it was unexpected, but it still came as a shock when earlier today Nokia announced it's selling its Devices & Services division to Microsoft. The announcement of this move caused a tsunami across the internets and we've seen countless comments by fellow tech journalists, industry analysts, past and current Nokia employees and regular users alike.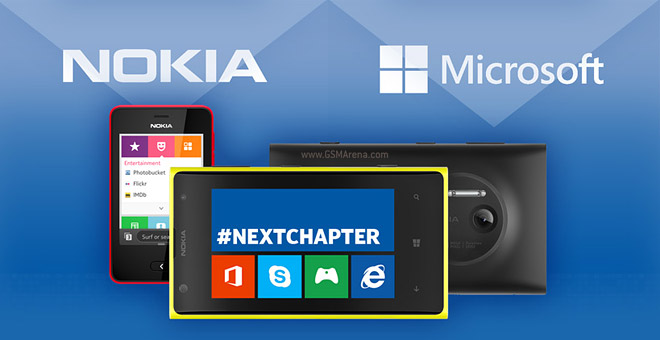 Even though Nokia held a dedicated live press conference in Finland to announce the move, there are many burning questions that weren't answered and currently are subject to interpretation. What will happen to the Nokia phone brand, will Stephen Elop replace Ballmer as Microsoft CEO, what current and ex-Nokia employees think of the deal, how will the deal affect other Windows Phone makers, what does the deal mean for the WP platform itself and what will become of Nokia? Well, by going through all the available information, hopefully, we have some of the answers here now.
Earlier today Nokia Conversations ran an infographic that shows the history of both companies and how they came together.
On a more serious note, Microsoft released a PDF, titled Strategic Rational, in which the company explains why this is the best course of action (this is obviously aimed at stock holders, which are probably getting antsy).
Terry Myerson, EVP of Operating Systems at Microsoft, shared his own thoughts on the deal in a blog post. The sentiment of the post is that other OEMs won't be hurt the Nokia acquisition, "We have exciting ideas, and so do our OEM partners," says Myerson.
Steve Ballmer says that Microsoft has the potential to increase volumes of Windows Phone handsets, which will "activate the software and the hardware ecosystem." According to the PDF above, Windows Phone's market share will triple to 15% in 2018 when the market is projected to reach 1.7 billion smartphone shipments.
Ballmer also wrote a letter to Microsoft employees with the subject "Accelerating Growth", in which he rallies the troops and also outlines the new command structure. Elop will take the lead on Microsoft's Devices and Studios division along with the former Nokia divisions, but Julie Larson-Green is still focused on Xbox One and Surface launches and will join Elop's team once the acquisition is done.
Stephen Elop got demoted as a Nokia's CEO – actually it's just a move to put him in charge of the Devices & Services division, so that he moves to Microsoft along with the division (chairman of the Board of directors Risto Siilasmaa is taking over as interim CEO). Elop will report to Ballmer at first, but talk around town is that he might as well step in the shoes of the now departing Microsoft's CEO.
So, how do Nokia employees feel about all of this? They were taken by surprise, it seems, and are all very emotional. Some say they have "mixed feelings" (including the Nokia's popular ex-employee and mobile camera guru Damian Dinning), while others are not as positive – Elop's intentions (and actions) are getting questioned and various conspiracy theories about the chain of events that brought Nokia to succumb to this deal are brought back to life.
According to a Strand Consult research note, Elop is to blame for the current grave situation. They even go as far as calling him Mr. Flop for Nokia. "By the time Elop made his infamous "burning platform" announcement on 11 February 2011 (also called the world's most expensive memo), Nokia had reached its height in sales of Symbian-based smartphones. Nokia sold more than 110 million Symbian phones in the prior year, more than iOs and Android together. At the Mobile World Congress, he told the mobile industry that Nokia would give up the world's best-selling mobile smartphone platform which supported a multitude of new Nokia phones. The future would be Microsoft."
Now, despite the high sales number back in 2010, when Elop came over, Symbian was already a sitting duck in 2011, faced by unprecendented competiton by Android and Apple, who provided better user experience. But his choice to go pro-Microsoft, to choose the least popular mobile platfirm on the market, was either a misjudged leap of faith or a sabotage. Either way, it was his decision, unveiled in the notorious "burning platform" announcement on 11 February 2011, that ultimately dragged Nokia down in Microsoft's hands (for a rather petty amount of money, we would add).
And indeed, Nokia's interm CEO, Risto Siilasmaa, opened today's Nokia press conference with the words that "this transaction makes all the sense rationally". According to him, "even as people who try a Lumia usually quickly fall in love with the device, it does require a significant investment to drive large number of people to try a new experience" such as the one, offered by Windows Phone as a break from the duopoly on the market. Well, as things stand today, "the industry has become a duopoly with the leaders gaining a significant financial momentum at a scale not seen before", and obviously Nokia doesn't have the resources to go through the transition process of establishing the new platform. As Risto Siilasmaa continues, "with all these dynamics, it's evident that Nokia alone does not have the resources to fund the required acceleration across mobile phones and smart devices." But such reasoning begs the question how did Nokia got in the need of selling this "new experience" in the first place. Wouldn't it have been easier for Nokia to take on a more popular platform such as Android, rather than going for the underdog Windows Phone in a faint attempt to differentiate. Was it not Mr. Elop, or rather Mr. Flop, as a recent research paper, published by StrandConsult calls him.
Whether employees are happy or not, fans will certainly be sad knowing they will never get to see a new Nokia smartphone announced – the Lumia and Asha trademarks now belong to Microsoft and the Nokia name can only be used on Series 30 and 40 feature phones for the duration of the 10 year licensing deal (which includes licensing patents). Worse still, Nokia can't create a Nokia branded device until the end of 2015, which probably also means that Nokia phones as a whole are done for (who will buy a feature phone in 2016?).
Still, the Finnish company retains the profitable Nokia Siemens Networks (which it fully owns, never mind the name), the HERE Maps services (which Microsoft are now licensing from them) and "advanced technologies" – whatever that means, we've seen some pretty wild things (the company has even designed nuclear power plant tech in the past).