If you'd like more online storage, but don't want to pay for it, this will surely suit you well. Microsoft is currently offering 100GB of OneDrive storage space for free for two years. All you need to do is sign up for Bing Rewards – which is also free. The one catch? This is US-only.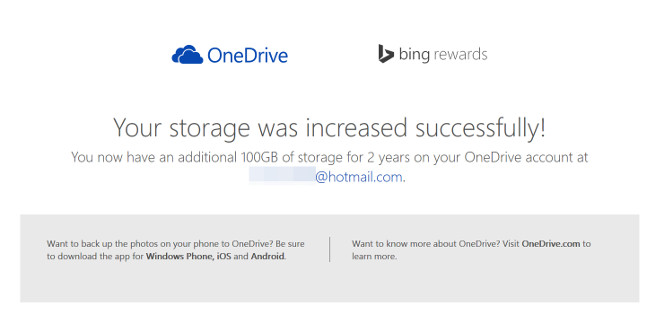 Here's how it works. If you have Microsoft account, you log in and then head to the Bing Rewards Dashboard. If you haven't signed up for Bing Rewards before, you'll see a "Join Now" link. Click that, then choose "Try it now for free". After you see the "Welcome to Bing Rewards" page, go to "Earn and explore", then click on "Free storage", and finally choose "Get my storage". That's it.
For two years from this point on, you'll be able to use 100GB of OneDrive space for free. The offer ends on February 28, so if you don't have anything against using Microsoft's cloud storage solution, you should probably perform the procedure explained above and bag that free space – provided you're in the US, that is. Hopefully deals like this will be available to the rest of the world too at some point.