A slip-up at the Microsoft online store has finally lead to the unveiling of the Surface tablet's pricing. Scheduled to hit store on October 26, the pricing of the Microsoft Surface starts from $500 without the cool Black Touch Cover with keyboard. However, chances are that you'll want the cool accessory, which basically transforms the Surface into a fully-fledged notebook replacement. In that case, you'll need to shell out $600. Both prices apply for the 32GB version of the slate.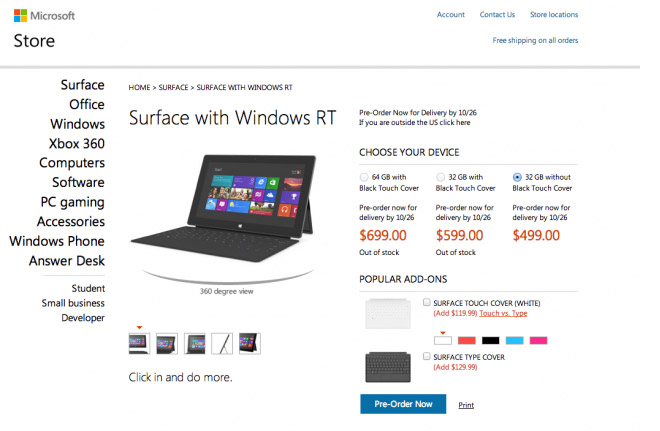 Update: The Microsoft Surface RT tablet is officially now up for pre-order in the US, Canada, UK, Germany, France, and Australia. The German prices, which should be valid for pretty much all Europe, are clear now. The 32GB version costs €479, while €579 will get you the Touch-Cover as well. In the UK pricing starts from £399.
In the US, the 64GB variation is priced at $700 with the Black Touch Cover included. The Touch Cover is also available for purchase separately for $120 a pop and comes in red, black, white, blue or purple. There's also the Type Cover retailing for $130, but that's only available in black.
With the Surface's advertisements already showing on TV and all over the Internet, and rocking the same price as the iPad 3 (32GB), Microsoft's slate is ready for a fight in the upcoming holiday season.