Microsoft turned in its report card for the first quarter of the year (which is the third quarter on the company's financial calendar). The total revenue for the quarter was $20.49 billion with net income growing to $6.06 billion, 19% up from the same quarter the previous year. That was a bit better than analysts predicted.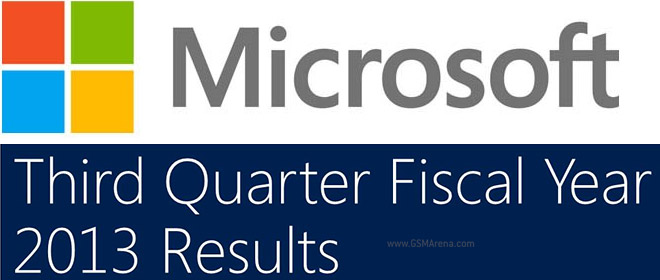 The company's CFO, Peter Klein, mentioned that Windows 8 will be coming to smaller devices (presumably with the 8.1 Blue update), but said nothing about Microsoft branding one of them as a Surface device (the rumor mill thinks has it that there is a 7" Surface in the pipeline).
The Windows division of Microsoft reported $5.70 billion in revenue (23% up year over year) but is mum on Windows 8 adoption. That includes $1.09 billion in revenue from previous quarters (as part of the Windows Upgrade Offer).
OEM revenue (cash from Windows pre-installed on computers) declined along with the PC market, but non-OEM revenue (Surface sales and sales of Windows licenses) went up 40%.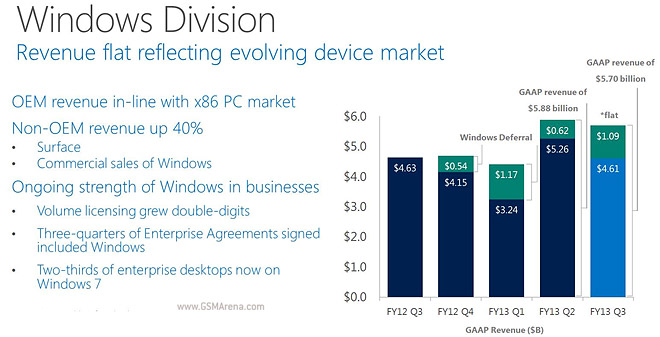 The Entertainment and Devices division (responsible for the Xbox and Windows Phone) enjoyed a big 56% boost in revenue year over year to $2.53 billion. There's a $380 million deferral earlier game sales. The subscription service Xbox LIVE now boasts 46 million members, an 18% increase.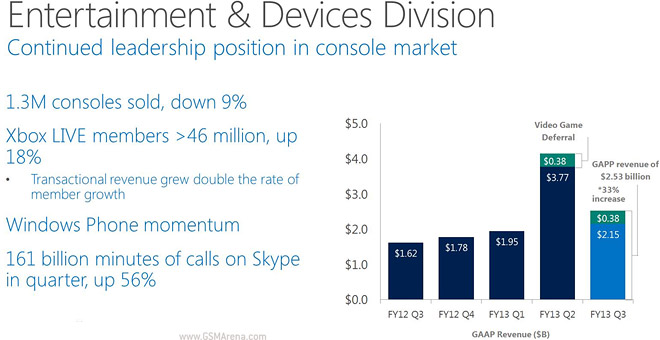 Business division revenue showed a modest 8% increase to $6.31 billion, which includes $193 million from previous quarters (from Office Upgrade Offer and presales). Office 365 will bring an estimated $1 in revenue for the year. Server & Tools chimed in with an 11% increase to a $5.04 billion in revenue.
Also on the books is a $733 million fine from the European Commission over the browser ballot screen.
Peter Klein, who has been with Microsoft for 11 years now, and has been instrumental to deals like the Skype acquisition will be leaving the company at the end of the next quarter. CEO Steve Ballmer says it was a pleasure to work with Klein and wished him the best. He will be announcing Klein's replacement in a few weeks.
You can get more info – slides, transcripts and statements – from here.