Microsoft is buying Nokia's Devices & Services division, along with Sales&Marketing for $4.99 billion and will pay an extra $2.17 billion to license Nokia's patents for 10 years. Yup, I still can't bend my head over the fact that it's unlikely we would see a new Nokia smartphone ever. After all, in some regions, the word Nokia is synonymous to a mobile phone.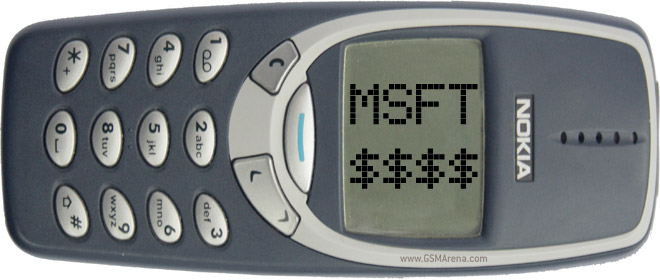 And $4.99 billion? This certainly sounds like a lot of money, but is it enough?
With big-buck deals such as this one, it's easier for normal people like us when we put things into perspective. For instance, do you remember how much Microsoft paid for Skype? Or how much did Google pay for Motorola Mobility? No, well, we're here to remind you the numbers, and in both cases it's more than what Microsoft is paying for Nokia's Devices unit.
It was almost exactly an year ago when Microsoft bought Skype for $8.5 billion – that's more than the total Nokia deal. Not to knock Skype, but they offer VoIP software and services – even if they are the best, Nokia's Devices business with its 32,000 employees working in R&D, design, manufacturing, sales and marketing would seem more valuable to us.
Two years ago, a very similar deal was carried on by Google, who bought Motorola's Mobility division for $12.5 billion (patents and all). That's a lot more more than the cash exchange in the Microsoft-Nokia deal and it's not like Motorola had the markets conquered back in 2011. Just on the contrary, behind the great brand hid an ailing company with barely competitive mobile products.
In the past, Nokia itself has spent more money in acquisitions than what Microsoft will be paying right now – in 2007 Nokia paid $8.1 billion to acquire NAVTEQ, which is the forefather of today's HERE Maps. HERE would remain a part of Nokia and Microsoft will make a separate payment to secure a 4 year license. Still, young startup Waze (which makes a community-driven GPS navigation app) got nearly $1 billion from Google a few months ago, so how much can Microsoft pay to use HERE for 4 years when it paid just over $2 billion to license the total of Nokia's extensive telecommunications patents for 10 years.
Of course, it's not like we haven't seen cheaper deals, too. When Sony bought out Ericsson out of their mobile phone joint venture in early 2012, the Japanese company paid only $1.5 billion, so maybe the Finns got a good deal after all – in this economy and all. Come to think of it, Nokia sold its luxury Vertu division a while back for the modest sum of $260 million. To be fair, phones costing north of $10,000 were dead in the water in 2012, so the low price is understandable.
Nevertheless, to put things into perspective, $1 billion is not that big of an amount of cash in the tech industry – Facebook paid that much for Instagram when it had only 13 employees, in contrast Nokia has 32K. And Microsoft spend $1.2 billion on an online service Yammer (described as "Facebook for business," though I thought that was LinkedIn).
Acquisitions in $ billion
Google buys Motorola Mobility (2011)




12.5

Microsoft buys Skype (2011)




8.5

Nokia buys NAVTEQ (2007)




8.1

Microsoft-Nokia deal (2013)




7.16

Nokia buys out Siemens out of NSN (2013)




2.2

Sony buys out Ericsson (2012)




1.5

NSN buys Motorola audio assets (2011)




1.2

Microsoft buys Yammer (2012)




1.2

Facebook buys Instagram




1

Google buys Waze (2013)




0.966

Nokia buys Symbian Ltd. (2008)




0.35

Nokia sells Vertu (2012)




0.26
Just a few years ago no one would have imagined Nokia will ever be in a position in which it needs to sell its acclaimed phone business. I am more than sure that it was Stephen Elop's Burning Platform memo that lead to this result. If he had been playing the Trojan horse scheme in order to deliberately lead Nokia to this end, then I imagine it's a job well done for him. If not, Nokia's new strategy was a really bad management call for a newly appointed CEO. Either way, it's insulting to fans, customers and employees alike to still keep him around, continuing to lead the same phone business he failed to revive. Unless of course, he failed on purpose.
That's not the end of Nokia, mind you – the company can trace its roots back to 1856 and through the years it has dabbled in wildly different businesses. But the Nokia as we know it today – a phone company – is no more, and that at the low price of just over $7 billion. One would reckon it should cost a bit more than that, shouldn't it?