Microsoft is on a roll with all the iOS apps. After Kinectimals and One Note, Microsoft is now following them with an official SkyDrive app for iOS and their own Windows Phone. Android, as usual, has been given the cold shoulder.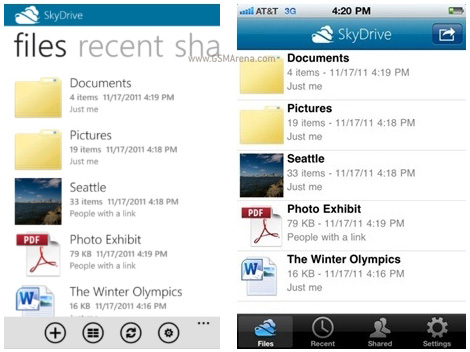 Both apps are more or less identical. You have the ability to view all your files and folders saved on your SkyDrive account, create more folders, delete them or upload files from your device to them. You can also share the files or folders with others, whereby it mails a link to the file or folder to your recipient and you can choose whether the viewer can just view it or edit it as well.
Of course, Windows Phone users have had the option to upload their content such as pictures, videos and documents to SkyDrive before but now they can see all of them and edit or delete them too without having to resort to using a computer.
You can find out more about the two apps in the videos below. You can download the Windows Phone version of the app here and the iOS version here.