Guinness World Records has confirmed that the Kinect for the Xbox 360 has cracked the world record for fastest selling consumer electronics device for a period of 60 days. Microsoft managed to sell an average of 133,333 Kinect units per day, making a total of 8 million units in its first 60 days of sale from 4 November 2010 to 3 January 2011.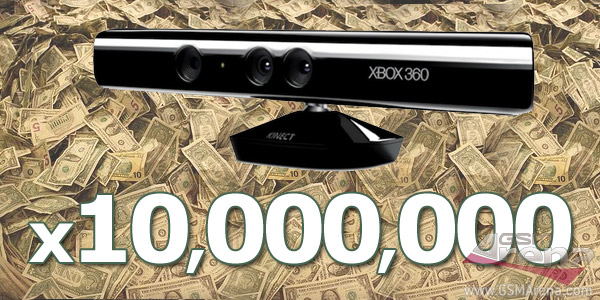 If you think about it, this means that every hour over 5 thousand people bought the Kinect. Impressive numbers indeed, but the story doesn't end there. Today marks the day of an even bigger achievement for Microsoft, as the company announced that they have sold their 10th million Kinect. Not only that, but along with them they sold over 10 million standalone games specially designed to makes use of the sensor, too.
In comparison, Kinect's main rivals – the PlayStation Move and the Wii with its Wiimote can't brag about their sales so much. PlayStation's Move sense controller sold merely 4.1 million units for roughly 2 months (from September 20 last year, when it was launched, to November 30). And as far as the Wii goes, Nintendo reported back in January that it sold 7 million units in 2010, which doesn't seem too good, compared to the 10 million consoles it shipped in 2008.