Slowly, but surely, we're starting to hear more and more about this year's Valentine's Day offers and deals. The latest such promotion to get unearthed comes from Italy, where Microsoft is preparing a pretty sweet deal.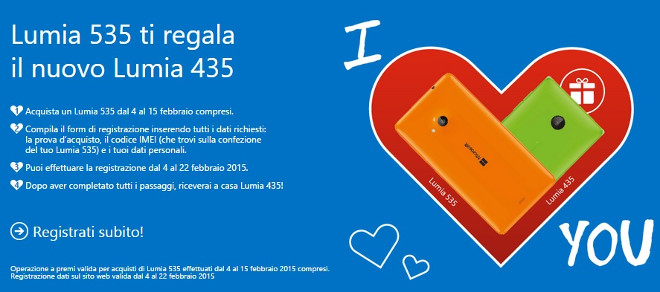 If you buy a Lumia 535 from February 4 to February 15, you'll get a free Lumia 435. This is however limited to Italy, so if you're not there, you can't take advantage of the offer.
You don't even have to buy the Lumia 535 from a specific store. Any purchase counts, whether made online or offline, even if you get the device from an Italian carrier. After you've bought the Lumia 535, you simply go to the special website Microsoft has set up for this promo, enter your details so your purchase can be identified, and that's it. You then patiently wait and Microsoft will start shipping the free Lumia 435 units on February 23. You will have to register on the website between February 4 and February 22.
A "buy one, get one free" offer always sounds neat, and this one might help Microsoft move some product over in Italy. Neither the Lumia 535 nor the Lumia 435 are high-end devices, but getting two smartphones for the price of one is still pretty good.