Meizu's fourth generation flagship is chilling in our office right now and we're thrilled to take you through our hands-on experience. Right off the bat, the Meizu MX4 strikes us as a premium built smartphone with terrific handling.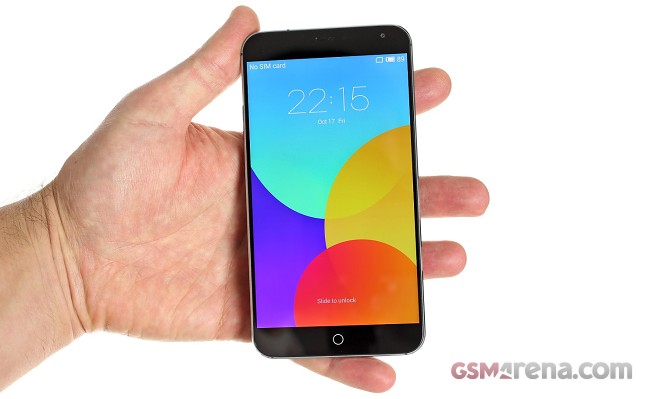 Glossy plastic from former Miezu MX smartphones is a thing of the past now and the MX4 features a very high quality feeling matte plastic. The whole phone is very well put together and the metal frame really helps to achieve a premium in-hand feeling.
The back cover is removable but it only gives you access to the microSIM card slot. The 3,100mAh battery isn't removable, which is unfortunate. We should note that snapping the cover back on its place is easy and doesn't leave any gaps.
Here's a video showcase of the Meizu MX4.
Going to the front of the phone, we are greeted by a 5.36″ IPS LCD display with an unorthodox resolution of 1152x1920px. It results in a pixel density of 418ppi and leaves a very positive initial impression. Colors are great and brightness is good enough to allow using the phone on a sunny day.
Powering the Meizu MX4 is a MediaTek MT6595 chipset with a quad-core 2.2 GHz Cortex-A17 and a quad-core 1.7 GHz Cortex-A7 CPU and 2GB of RAM. This configuration runs Flyme OS 4.0 on top of Android 4.4.4. If you've ever read a Meizu review of ours, you know that Flyme OS transforms the Android experience quite substantially.
There are some cool new features and design changes in the latest Flyme. The overall user interface sports a flatter look and there are cool new animations. Meizu also redesigned over 1000 third-party application icons, 500 website icons and 100 notification bar icons in order to ensure that whatever you install doesn't ruin the look of the UI.
At the back, you'll see something familiar – a 20.7MP camera made by Sony with an IMX220 Exmor RS sensor that's 1/2.3″ in size. It can take 25 shots/second and sports an f/2.2 aperture. Below it, there's a dual-LED flash and on the software side Meizu has added new shooting modes. One of them is Real Beauty mode, which should make you and your friends look like you're about to step on the red carpet.
Available in black and white, the Meizu MX4 weighs 147 grams and is available in 16GB, 32GB and 64GB variants. Sadly, Meizu didn't feel the need to fit a microSD card slot for additional storage.
Despite its downfalls, the Meizu MX4 makes a great first impressions. We are very eager to put it through our review gauntlet and see what's the phone really made of.