Nokia thinks its flagship Lumia 92x range has the best cameras in town and the Finnish company can often be heard bringing up how awesome their snappers are. The latest video shows off the Lumia 928 (that's Verizon's xenon and AMOLED packing 920 version) and pits it against the Apple iPhone 5 and Samsung Galaxy S4.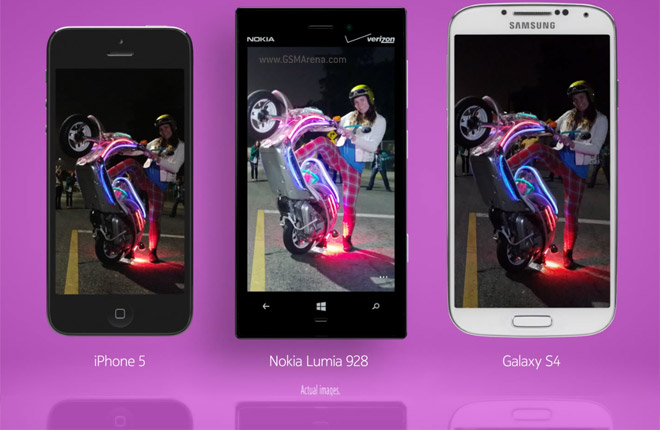 The Nokia Lumia 928 camera has several things to brag about, including Optical Image Stabilization, HAAC mics and low-light performance. We've seen it take flight, but this video focuses on the low-light photos.
Actually, we've already seen Nokia compare the Lumia 928′s low-light prowess, at least this time the Finns used the current generation Galaxy S phone.
Anyway, if you're convinced this is the phone for you, you can grab it from Verizon for $99 (after $50 rebate) and a 2-year contract (it's $500 without the 2-year commitment).
If you prefer T-Mobile or don't live in the US, then you should wait for the Lumia 925, which is similar (it's thinner but lacks the xenon flash). It's coming next month for €470 / $610.