Samsung announced yesterday the Galaxy Note 10.1 2014 edition – its latest attempt to occupy your living room by providing a one-stop entertainment and media consumption tablet device. We've decided to pit it against Apple's and Sony's best in a virtual Mexican stand off so we can gauge what amount of novelty does the newcomer bring to the (living room) table.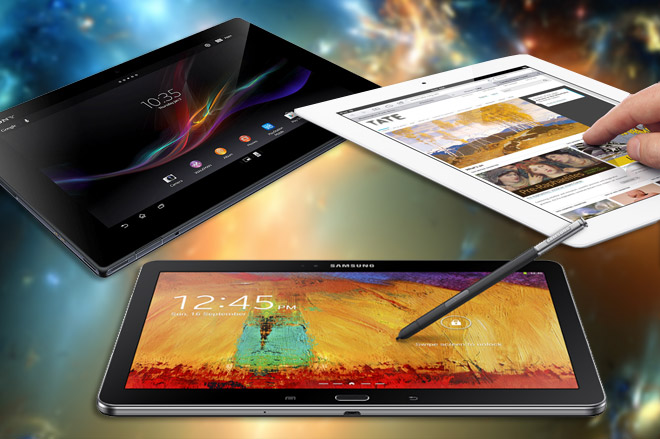 Samsung has long learned the cold hard truth that a 10.1″ tablet must be able to do pretty much everything you throw at it, and thus the Note series of slates was born. Sony agrees with this as well, but doesn't bet as much on the software chips as it does on the hardware ones. Its Xperia Tablet Z offering is both ultra thin and waterproof, the second one being a true rarity in the tablet space.
Apple, as a pioneer in the mass consumer tablet space, is pretty comfortable with its 4th generation iPad. The company is expected to unveil the next-generation iPad in October, so for now we'll take what it offers and throw it in the mix.
The 2014 edition Samsung Galaxy Note 10.1 is a hell of a tablet. It runs Android 4.3 on a Snapdragon 800 chipset with four 2.3GHz Krait 400 cores and 3GB of RAM. There's literally nothing you can throw at it that will make it slow down. It's really that good, as you can see in our detailed hands-on of the slate.
Samsung stepped up the display department too, updating the screen resolution, which now reaches 2560 x 1600 pixels for a pixel density of 299 ppi. It was a matter of time before we see this screen, as the same display has been available in the Samsung-made Nexus 10 for quite a while now. The displays of the iPad 4 and Xperia Tablet Z aren't too bad in their own right, but they are not a match for the Note 10.1′s screen.
In many cases what's under the hood of the Note 10.1 2014 edition is superior to its main rivals. However, cold specifications aren't always telling the full story. The Sony Xperia Tablet Z, for example weighs a hair under 500 grams, where as the iPad 4 and the new Galaxy Note 10.1 weigh 662 grams and 535 grams, respectively. This makes for a tangible difference on a device you will be holding for prolonged periods of time.
Speaking of handling, the aluminum-clad back of the iPad 4 is unrivaled by the plastic-made Galaxy Note 10.1 and rubberized Xperia Tablet Z backs. Granted, the latter is quite nice to hold, but still we prefer the premium aluminum feel in our hands. The Xperia Tablet Z super thin profile is enticing in its own right, while Samsung came up with a faux leather finish for that back that allow it to really stand out.
Check out the comparison table below for the full specification rundown. Note that we've selected the LTE variations of the tablets.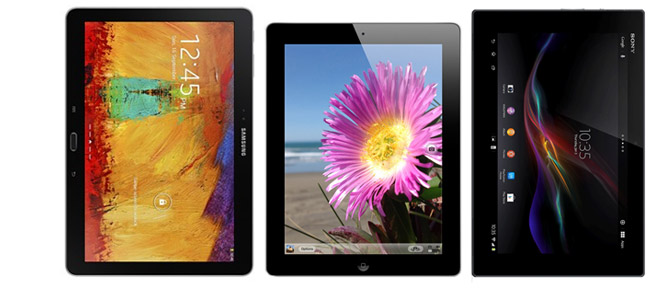 Samsung Galaxy Note 10.1
(2014 edition) LTE

Apple iPad 4 LTE

Sony Xperia Tablet Z LTE

OS

Android 4.3 Jelly Bean

iOS 7

Android 4.2.2 Jelly Bean

Display

10.1" Super Clear LCD

9.7" IPS LCD

10.1" Super LCD 3

Resolution

2560 x 1600
(299 ppi)

2048 x 1536
(264 ppi)

1920 x 1200
(224 ppi)

Height
Width
Thickness

243.1 mm
171.4 mm
7.9 mm

241.2 mm
185.7 mm
9.4 mm

266 mm
172 mm
6.9 mm

Weight

535 grams

662 grams

495 grams

Processor

Snapdragon 800 chipset
Quad-core 2.3 GHz Krait 400

Apple A6X chipset
dual-core 1.4GHz

Qualcomm Snapdragon APQ8064
Quad-core 1.5 GHz Krait

GPU

Adreno 330

PowerVR SGX554MP4

Adreno 320

RAM

3GB

1GB

2GB

Storage

16GB / 32GB / 64GB

16GB / 32GB / 64GB / 128 GB

16GB

microSD card slot

Yes, up to 64GB

No

Yes, up to 64GB

Primary camera

8 MP,  3264×2448 pixels
auto-focus camera, face detection, HDR mode, panorama, geo-tagging; Full HD (1080p) video recording at 60fps

5 MP, 2592 x 1944 pixels,
autofocus, LED flash, 1080p@30fps, HDR, video stabilization
touch focus, face detection

8.1 MP, 3264×2448 pixels, autofocus
Geo-tagging, touch focus, face and smile detection, HDR

Front camera

2MP
1080p@30fps

1.2MP
720p@30fps

2.2 MP
1080p@30fps

Battery

Li-Ion 8,220 mAh

Li-Po 11,560 mAh

Li-Po 6,000 mAh

Wi-Fi

Wi-Fi 802.11 b/g/n/ac, dual-band, Wi-Fi Direct, DLNA, Wi-Fi hotspot

Wi-Fi 802.11 a/b/g/n, dual-band, Wi-Fi hotspot, AirPlay

Wi-Fi 802.11 a/ac/b/g/n, Wi-Fi Direct, DLNA, Wi-Fi hotspot

Bluetooth

Yes, v4.0 LE with A2DP

Yes, v4.0 with A2DP

Yes, v4.0 with A2DP

Network

Quad-band GSM/GPRS/EDGE
Quad-band UMTS/HSPA
Hexa-band LTE support

Quad-band GSM/GPRS/EDGE
Quad-band UMTS/HSPA
Penta-band LTE support

Quad-band GSM/GPRS/EDGE
Tri-band UMTS/HSPA
Hexa-band LTE support

NFC

Yes

No

Yes

Speakers

Stereo

Mono

Stereo

Distinctive features

S Pen with pressure sensitive touchscreen

iOS has the best tablet apps around

IP57 certified

Availability

October, 2013

Currently available

Currently available
Whatever it is that you need from a tablet, chances are any of the three tablets above will scratch your itch just fine. It is up to you to decide which one you will choose to be in charge of your living room entertainment. If you care about third-party app number and quality, currently Apple holds the upper hand. If memory expansion is your thing, then turn your head to the Android-powered Note 10.1 2014 and Xperia Tablet Z.
The ever so improved S Pen stylus and the expanded functionality that it adds to the Note 10.1 2014 edition shouldn't be easily disregarded. The S Pen now works on the capacitive keys of the tablet in addition to the display, so that you don't even need to ever put it down. We could say a lot about the S Pen and how the Android experience has been tailored to house the added functionality of the stylus. Or the countless apps that Samsung developed to make the best use of the S Pen.
The truth of the matter is that it's one thing to read about the S Pen on paper and a whole another to try it yourself. That's why we suggest you go out and try all of them in your hands to get the best feel. In any case, don't rush your purchase decision until Apple has unveiled its 5-gen iPad. This is expected to happen in October.