LG has been taking a leaf of the Samsung's marketing team book and has published an ad for its latest Optimus G, which is clearly taking a jab at Apple.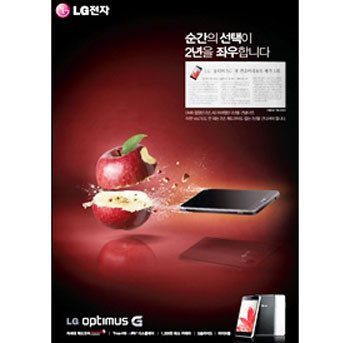 The ad, which you can see above, shows an LG Optimus G flying through a bitten apple (wink, wink) splitting it in half.
According to Korea Times, LG has placed ads in all major local media outlets. The text of the ad reads: "a moment's choice will decide your next two years". LG Group's subsidiary, LG Uplus, which is South Korean's third largest carrier is also running the anti-Apple ad in its stores.
Here's what the carrier's spokesperson has reportedly said:
Our poster contains facts on the iPhone 5, and is not slander. It is just a fact that is has no NFC, no DMB. Its screen is comparatively small so that is also true. Other nuanced phrases are usually adopted for marketing. We are absolutely not targeting Apple as a company and the messages on the posters are not our official stance.
Just like Samsung, LG is a key Apple partners, providing lots of components that go into the iPhone 5 and the iPad. It seems however, that this doesn't stop the company's promo campaign for its latest flagship.