LG came out public today, detailing a new concept for their custom UI skin to be used on their upcoming IceCream Sandwich smartphones. The company issued a lengthy press release that makes a lot of promising and does little in terms of actual demonstrations.
The key new features include a QuickMemo integration throughout the UI and enhanced lockscreen functionality. As any smiling South Korean girl would tell you (ok, not on their Samsung shift, they won't), these innovations would certainly provide a more upscale user experience.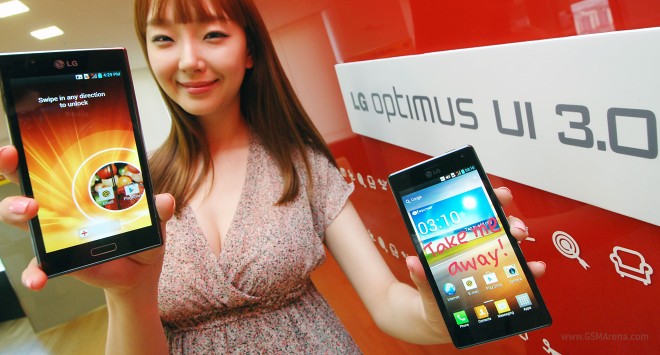 LG actually have prepared a nice little list of all the changes they've implemented and I'm sure you're dying to read it (if you are not here just for the girls). So here it is along with another shot of this nice looking gal.
• a powerful memo function called Quick Memo™ enables users to jot notes on the screen using a finger;
• the ability to unlock the phone by dragging anywhere on the screen;
• a new Pattern Lock that allows users to preset the most frequently used function, such as the camera, which automatically opens once the phone is unlocked;
• a simpler version of Optimus UI 3.0 for new smartphone users which organizes the main applications so that they are the easiest to access;
• a new Voice Shutter that allows users to capture photos using only voice commands;
• a special camera feature that enables users to pick up the best shot among multiple images including the moment just before the shutter button is depressed;
• an Icon Customizer that provides an additional level of personalization by allowing users to set their own photos as icons and shortcut images;
• the addition of a Download category to the menu for easier organization.
Is it just me or most the items on the list have been recently offered by other manufacturers? So much for "…carriers and customers tell us that they want LG phones to look and feel unique and the UI plays a big part in that." Ops, here's the second girl shot I promised, sorry about that.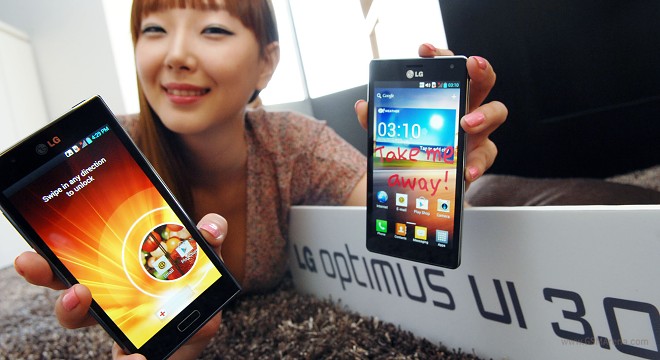 In terms of availability, we have yet to see most of the LG smartphones announced back at the MWC 2012 hit the shelves. The new Optimus UI 3.0 will be first featured on the South Korean LG Optimus LTE2 set for launching this week, followed by LG Optimus 4X HD in June. I guess, it won't be long before we see the user interface in action.