LG officially spilled the beans on the upcoming availability of its duo of fitness-centric devices. The Lifeband Touch and the HeartRate Earphones will begin shipping this month in the United States, as well as key markets in Asia and Europe.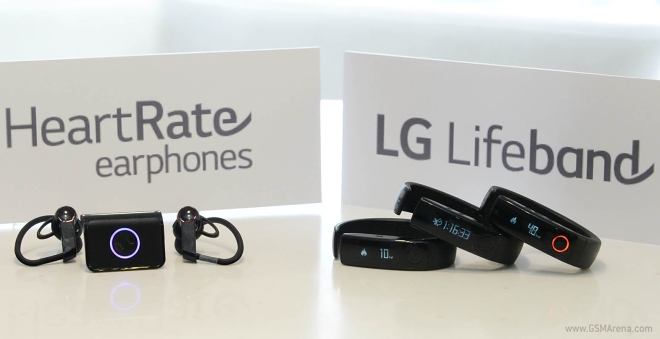 Announced right before this year's CES, the Lifeband Touch is a wearable that you slap on your wrist. It features a 0.9" OLED display, a 90mAh battery that should be good for five days of consecutive use, and is packed with Bluetooth 4.0. Like the name suggests (and many of its competitor's wearable devices) the Lifeband tracks your fitness progress. It also lets you check incoming calls and messages, and manage your music playlist.
The Lifeband plays nice with both Android and iOS devices via the LG Fitness app. It also is compatible with other fitness applications that have a wide user base such as Runkeeper, MapMyFitness, and MyFitnessPal.
The HeartRate Earphones are an interesting product as they measure user's blood flow using a proprietary technology called PerformTek. LG claims that measuring blood flow via the ear is a more effective means of tracking your heart-rate. The HeartRate EarPhones also come with an additional Bluetooth clip-on to accompany the device and they naturally are compatible with the Lifeband touch. When you use the HeartRate Earphones with the LG Fitness app, you can have your heart rate and oxygen levels read out to you during your workout.
The wearables are both black and sleek looking devices. They become available for sale in the US on May 18th and will reach other markets shortly after.