LG's latest flagship smartphone – the G2 – wowed us with its unique design and more importantly, the fantastic set of specifications. Naturally, then, it was bound to be put through its paces sooner or later and so it has.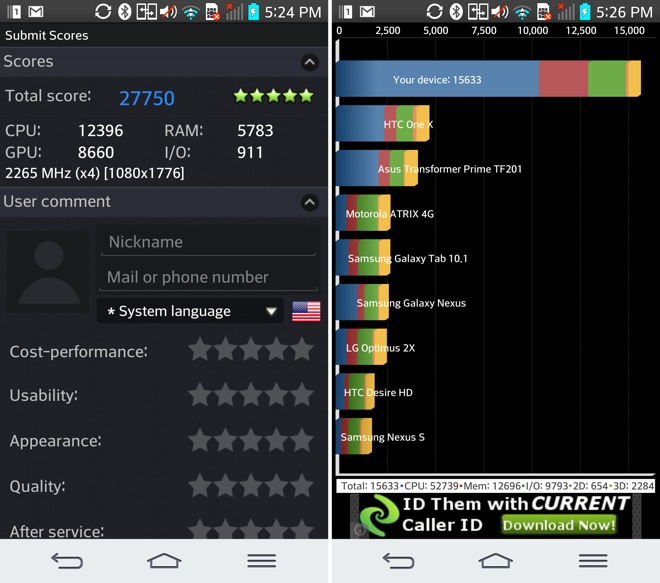 Droid-Life managed to get their hands on a device and run two of the most popular benchmarks on it – AnTuTu and Quadrant. While the jury is out on the reliability of these benchmarks, especially considering how they can easily be gamed, you can still derive some idea about the device's performance.
As you can expect from a device running a Snapdragon 800 processor, the performance is pretty darn impressive. Although the LG did not quite manage to beat the Sony Xperia Z Ultra in AnTuTu, as you can see from the chart below, it still takes the second spot above "optimized" Galaxy S4 running the Exynos 5 Octa processor. The difference between the LG and the Sony is quite significant right now, which may have to do with the software on the G2 not being final yet (unlike the Ultra).
AnTuTu
Higher is better
Sony Xperia Z Ultra




34758

Samsung Galaxy S4 (Octa)




26275

Samsung Galaxy S4 GPE




25755

Samsung Galaxy S4 (S600)




24716

HTC One




22678

Sony Xperia Z




20794

HTC One GPE




18919

HTC Butterfly




19513

Samsung Galaxy S III




15547

Oppo Find 5




15167
We will be posting an extensive review of the LG G2 shortly. Till then, you can check out our hands on here.