Samsung I9500 Galaxy S4, the Exynos 5 Octa versions of the flagship, didn't make it to most of the markets and remained the more exotic option. Production hiccups and delays plus the lack of LTE radio in the initial batch was the reason Samsung switched to Snapdragon 600 chipset and make the I9505 its worldwide flagship.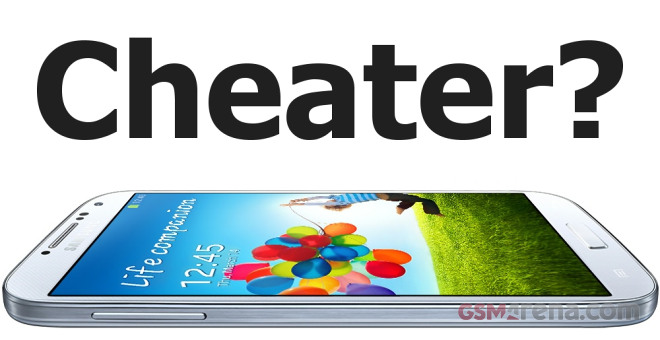 Anyway, the octa-core version followed shortly after the Snapdragon 600 was launched. We already had a meeting with the beast and found it slightly faster in benchmarks than its international sibling, but weaker when it comes to battery life. A new development however, suggests that the scores posted by the Exynos GPU are obtained by cheating and the I9500 real life performance is lower than its scores indicate.
It's a really simple yet powerful trick – the GPU clock get boosted when you run specific benchmarks on your octa-core I9500 Galaxy S4 and this way you get about 10% higher result than you should.
Samsung indeed didn't specify the PoweVR SGX 544MP3 clock, but as per Anandtech's investigation it runs always at up to 480MHz unless you are using benchmarks. When you do open a benchmark app the Galaxy S4 GPU start ticking at 532MHz and continues to do so until you exit the app. This means the Exynos-powered Galaxy S4 only brings its A-game to benchmarks and does slightly worse elsewhere. It's not like the smartphone is a slouch with regular apps, but that's blatant cheating.
We are not quite sure what is the reason for the lower clock cap in non-benchmark apps, but risks of overheating or huge battery drainage are the main suspect.
The CPU of the Galaxy S4 variants was also found to behave somewhat odd with its clock speed forced to the maximum possible the minute you run a benchmark. That's not technically cheating though, as the power is available if needed elsewhere – there's no overclocking.
The cheat doesn't apply on all benchmarks, but Anandtech so far discovered the different behavior on AnTuTu, Quadrant, GLBenchmark 2.5, BenchmarkPi and Linpack.
So, it seems Samsung is trying to polish the octa-core Galaxy S4 reputation. Whatever the reason, we are hoping it doesn't become a habit – the company's flagships have enough power and they don't need to use such unfair practices to gain advantage.