The LG G Watch R review is now up and it's time to put it through the gauntlet of our community's opinion about it. Watches are quite personal items and are seen as a reflection of your personality, so we think this week's poll is going to be something interesting to check out.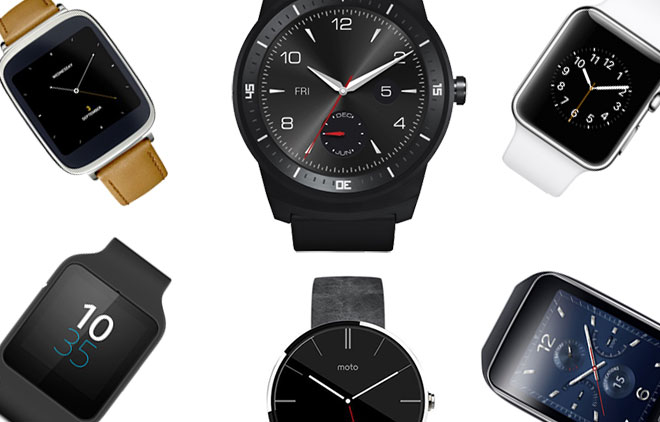 Especially in this day and age when almost every major tech company offers a smartwatch. There are plastic and metal ones, square and round, well almost round. We're looking at you Moto 360.
LG G Watch R vs. Apple Watch
Let's kick things off with the unreleased Apple Watch, which is set to debut in the first quarter of 2015. Apple's time piece runs a custom version of iOS and relies on its crown for navigating around the user interface. While nobody has seen the watch in action, it's surely going to turn people's heads, especially the Gold version.
Sadly, pricing isn't available just yet, as is more expanded information on specifications. Nevertheless, based on looks and what you've heard so far, which on do you like better?
LG G Watch R vs. Samsung Gear S
Samsung isn't new in the smartwatch scene, but its latest offering is quite a something. The Gear S sports a 2″ curved Super AMOLED display and doesn't require a smartphone to operate on full capacity thanks to its SIM card slot and Wi-Fi connectivity. It runs Tizen OS and can make use of a lot of cool apps, ranging from fitness through news to weather.
LG G Watch R vs. Asus Zenwatch
Next up is the stylish Asus Zenwatch. It runs Android Wear, which means Google Now integration in addition to the de facto standard array of fitness options. It's also one of the cheapest around and we think it's one of the better looking square offerings around.
LG G Watch R vs. Sony Smartwatch 3
Like Samsung, Sony is an old dog in the smartwatch arena and its Smartwatch 3 proves the precious experience the company has gathered over the year. It doesn't look terribly different than its predecessors, but with an understated sporty look, it will surely be well accepted by many.
LG G Watch R vs. Moto 360
And finally, we ask you to vote between the LG G Watch R and the Moto 360, the direct competitor of LG's circular smartwatch. The Moto 360 grabbed the hearts of many with its round metal casing and simple, yet premium aesthetics looks. It's also a bit cheaper than the G Watch R, so it's going to be interesting to see which one of these two circular watches is most preferred by you our readers.
That's it for our Weekend poll. We'll make sure we post the results over the next weekend.