After Lenovo's Yoga line-up of ultrabooks turned out to be quite a success, the company has decided to take a stab at making a Yoga tablet. Meet the Lenovo Yoga Tablet 8 and Yoga Tablet 10.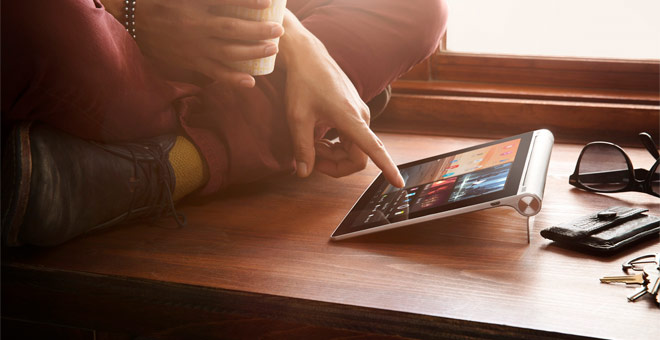 The members of the Yoga Tablet family feature a prominent circular bulge at the top, which holds a few tricks up its sleeve and allows the slate to stand in three different modes.
Lenovo calls them Hold, Tilt and Stand modes. Because of the aforementioned curve, holding the Yoga Tablet in portrait mode looks quite comfortable. The bulge also has a hidden kickstand that you pull out to make the tilt angle higher – that's Tilt mode.
Finally, the Stand mode allows you to put the tablet sitting on a flat surface in portrait mode. The good news in the design department continue with the dual front-facint Dolby-certified speakers. Check out the photos Lenovo has provided below.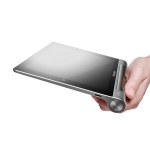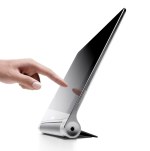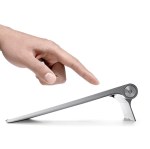 Lenovo Yoga Tablet Multimode photos
The two Yoga Tablet family members aren't quite as spectacular on the inside, though. Both the Yoga Tablet 8 and Yoga Tablet 10 rely on a MediaTek 8125 SoC with a 1.2 quad-core Cortex A7 CPU and 1GB of RAM. The resolution of the two screens is 1280×800 pixels.
Internal storage is 16GB, but is expandable thanks to the microSD card slot. At the back, there's a 5MP camera, while under the back cover sits either a 6,000mAh or a 9,000mAh for the 8-inch and 10-inch models, respectively. Lenovo says that both models are capable of going on for about 18 hours on a charge, which sounds really impressive.
Here's a cool product tour video Lenovo has made for the Yoga Tablet lineup.
The Lenovo Yoga Tablet 8 will retail for $249 on the company's official store as well as Best Buy. The Yoga Tablet 10 will cost just $50 more. Here are four more Yoga Tablet product videos for your viewing pleasure.
Lenovo Yoga Tablet: 18 Hours of Non-Stop Multimode
Lenovo Yoga Tablet: Better by Design
Lenovo Yoga Tablet in 3D
Lenovo Yoga Tablet: 18 Hours of Non-Stop Multimode