Aside from the carbon ThinkPad X1, Lenovo also brought out new Yoga convertible laptops. The Lenovo Yoga 3 comes in 11″ and 14″ sizes, both powered by a 5th generation Intel processor. The signature move of the Yoga are the four modes – Laptop, Stand, Tend and Tablet – thanks to the hinge that opens all 180°.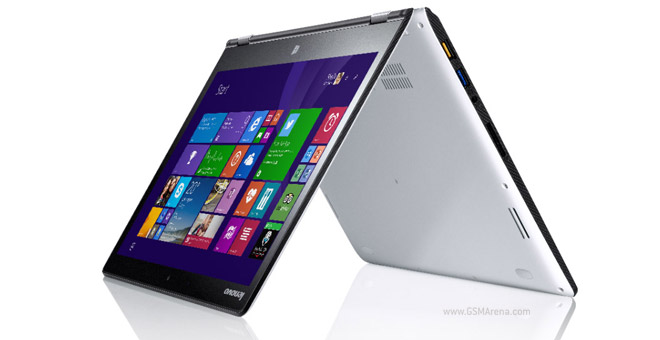 The Windows Yoga line continues with an 8″ tablet that can use a pen instead of a stylus and three ThinkPad models that aren't as portable as the Yoga 3 but pack additional features.
Lenovo Yoga 3
Both sizes come with a 1080p IPS touchscreen and run Windows 8.1. The 14″ model (pictured above) can be loaded with a 5th gen Core i7, while the 11″ model uses Core M processors. You can have up to 8GB of RAM in both, the big one even has room for a GeForce GPU.
Anyway, size is more important here. The Lenovo Yoga 3 11″ weighs a dainty 1.1kg (2.65lbs) and measures 15.8mm thick. The Yoga 3 14″ heavier at 1.6kg (3.53lbs), a bit more if you want a 500GB SSHD drive instead of a 256GB SSD.
Lenovo proudly notes that the 14″ model is essentially the same size as its 13″ predecessor thanks to the thinner bezels.
Connectivity on both includes Wi-Fi 802.11ac, three USB ports (two of which are USB 3.0), an HDMI port and a card reader. The Lenovo Yoga 3 pack stereo speakers with Waves Audio certification and a 720p camera. The battery on both is good for 6 and a half hours.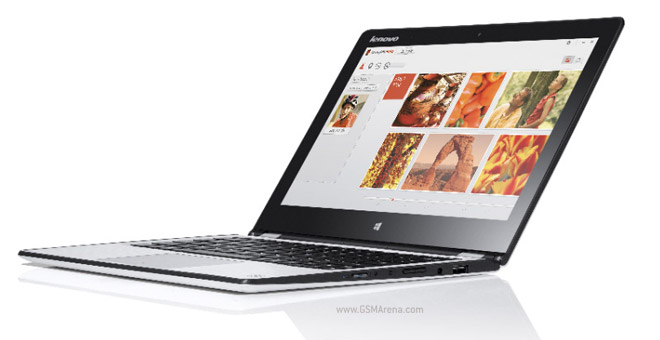 Besides the touch-friendly Windows, the Yogas have Harmony – software that learns how you use the laptop and offers new ways to increase usability. It also enables motion control, optimizes audio and recommends apps.
The Lenovo Yoga 3 will launch in March at $800 for the 11″ model and $980 for the 14″ one. It will hit shelves at Best Buy.
Lenovo Yoga Tablet 2
The Lenovo Yoga Tablet 2 comes with an 8″ 1080p screen that supports AnyPen – instead of a dedicated stylus, it lets you use ordinary pens and pencils. This tablet earns its name with four modes of its own, namely Hold, Tilt, Stand and Hang. IT also packs two front-facing speakers, Wolfson Master noise reduction and Dolby audio.

The Yoga Tablet 2 is powered by an Intel Atom processor and offers up to 15 hours of battery life. It's available this month from Best Buy at $300.
Lenovo ThinkPad Yoga
The Yoga brand extends into the ThinkPad family too. The new models come in 12″, 14″ and 15″ and some of them feature ActivePen – a stylus for notes, emails and presentations that tries to mimic handwriting.
The ThinkPad Yoga 12 has a sheath for the stylus. The laptop itself measures 19mm thick and weighs under 1.5kg. It has a 1080p touchscreen and a backlit keyboard. The 15″ model ups the ante with an Intel RealSense 3D camera.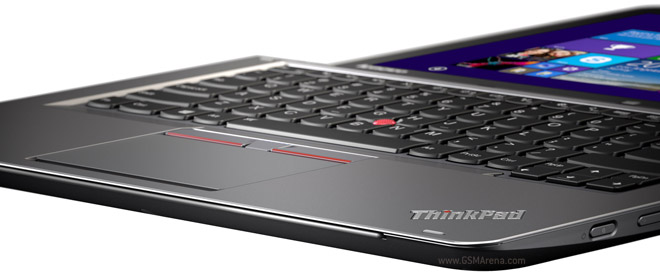 The ThinkPad Yoga line can be configured with a 5th gen Intel Core i7, Windows 8.1 9optional vPro for the 12″ model), 1TB of storage and Dolby Home Theater v4.
The ThinkPad Yogas will launch in two waves – the 12″ and 15″ are coming next month at $1,000 and $1,200 respectively (look for them at lenovo.com), while the 14″ model will wait until May and will also cost $1,200 (this one will be available in Best Buy too).