Lenovo updated the non-Pro Yoga convertibles, meet the Yoga 2 in both 13″ and 11″ versions. Both laptops now run Windows 8.1 on an Intel processor (the original Yoga 11 ran Windows RT on an ARM processor).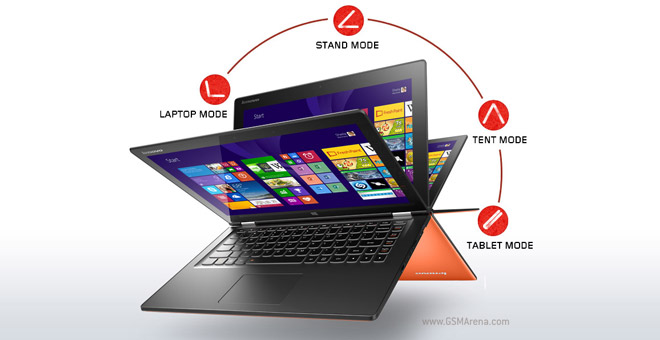 The Lenovo Yoga 2 is a mid-range version of the Yoga 2 Pro, which was unveiled in September.
It drops the screen resolution to 1080p (down from 3,200 x 1,800) and the best available processor is a fourth-generation Core i5 (the Pro runs on an i7). The SSD was dropped too, in favor of a 500GB HDD, but you can also go for a 500GB SSHD (a hybrid drive).
The 13-incher uses the Intel CPU's graphics, has up to 8GB RAM, a backlit AccuType keyboard and packs enough battery for 8 hours of usage. The wired ports include one USB 3.0 and one 2.0, plus HDMI out. There's also a 3-in-1 card reader, Wi-Fi and Bluetooth 4.0 connectivity.
The Lenovo Yoga 11 features an 11.6″ screen with 1,367 x 768 resolution, up to a quad-core Pentium processor (Bay Trail, so a beefed up Atom), Intel HD graphics, 4GB of RAM and 500GB HDD.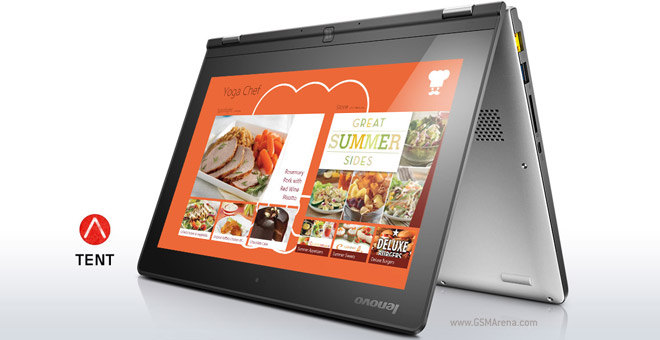 The battery is good for 6 hours and the whole thing weighs 1.31kg, a slight increase from the 1.27kg of the original.
Both Lenovo Yoga 2 convertibles will be available in late January through Lenovo's own site, Best Buy and Future Shop (that's for North America, worldwide launch deals are unclear). The 13″ model will start at $999, while the 11.6″ model is about half that – $530.