Lenovo has chimed in on the MWC 2015 horizon with the launch of a slate trio – meet the Android-running Tab 2 A10-70, Tab 2 A8 and Windows-booting Ideapad MIIX 300.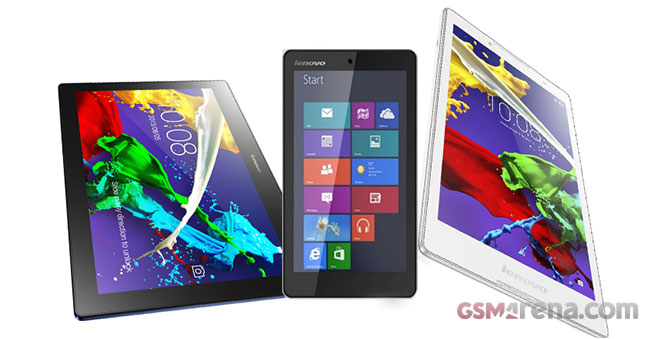 Lenovo Tab 2 A10
The Lenovo Tab 2 A10 packs a 10.1″ IPS display of 1080p resolution and under the hood features a MediaTek chipset with a 64-bit quad-core CPU and 2GB of RAM. Lenovo says its 7,200mAh battery can last up to 10 hours of non-stop usage. It's quite sleek, too, with a weight of 509 grams and 8.9mm thick frame.





Lenovo Tab 2 A10 official photos
The company has been boasting its partnership with Dolby in its slates lately and the Tab 2 A10 boasts ATMOS cinema-style sound from its back speakers. That's impressive, but even more impressive is the slate's price of $199 for the Wi-Fi model and $279 for the LTE model. Expect the tablet to be available in April in Pearl White and Midnight Blue.
Lenovo Tab 2 A8
Next up is the Tab 2 A8, which as you can tell by its name, rocks an 8″ display. It features 720p resolution and the tablet draws power from a MediaTek 8161 chipset with a 64-bit quad-core CPU, 1GB of RAM and 16GB of storage. The battery is 4,200mAh in size and lasts up to 8 hours.





Lenovo Tab 2 A8 official photos
Running on the tablet is Android 5.0 Lollipop and at 8.9mm thin it too features ATMOS sound effect from the speakers. It can hold two SIM cards and weighs 360 grams. Sales start from June and the Wi-Fi model costs just $129, while the LTE goes up to $179.
Lenovo Ideapad MIIX 300
Finally, there's the Windows 8.1 running Lenovo Ideapad MIIX 300 and featuring an aluminum shell. The 8″ slate features a pretty common 1280 x 800 pixels resolution and has a 5MP camera at the back.
The tablet is powered by an Intel Atom quad-core CPU coupled with 2GB of RAM and up to 64GB of internal storage. The on-board microSD card slot allows you to expand the memory even further. Sales start at $149 for the 16GB model in July.