According to some leaked slides, Sony is going to release a new Android tablet under the Xperia brand, thus unifying its smartphone and tablet business into one brand.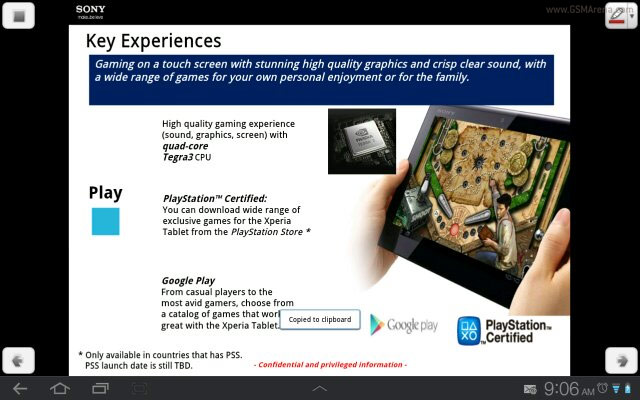 If the slides prove to be correct, the tablet is going to feature a 9.4-inch display with a 1280×800 pixels resolution powered by the quad-core Tegra 3 chipset.
Just like the company's rather unsuccessful Tablet S, the upcoming Xperia tablet is going to rock the "wedge" design, but will boast 8.8mm thickness, making it 42% thinner than its predecessor. The battery is upgraded to a 6000mAh and boasts 10-hour browsing time.
All of this will be put into an all-aluminum construction, which would also be splashproof. Another good thing is the 8MP camera at the back, and a 1MP unit at the front for video chatting.
Naturally, there will be some accessories available, too. Among them will be a charging cradle, dock, speaker, stand and a carrying case.
With an expected release in September, the 16GB version of the tablet will cost $450, the 32GB a hundred more, and the 64GB version will retail for $650. However, an insider from Sony firmly believes the prices will start from $400, which is good news.