Kingston introduced today microSD and SD cards under the UHS-I Speed Class 3 boasting some 90MB/s read and 80MB/s write speeds. This is great news for those who want to play and record 4K video without stuttering.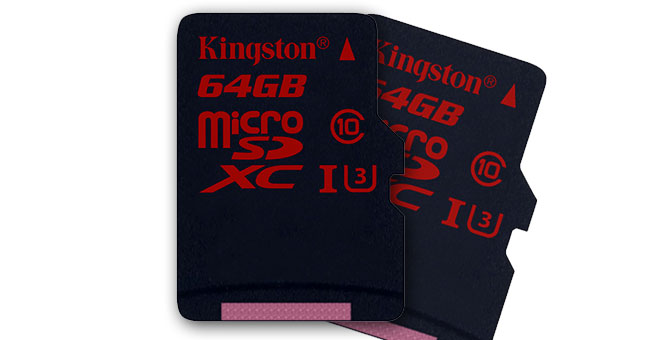 In fact, as per the SD Association's latest specifications, the UHS-I U3 standard guarantees performance of at least 30MB/s read and write, and Kingston's latest offering exceeds the standard Class 10 SD cards 9 and 8 times for read and write speeds, respectively.
By Kingston estimates, users can capture up to 60 minutes of 4K HD video or shoot photos in RAW or up to 8,000 24 MP images in JPEG on a 64GB card. The new card is available in 16GB, 32GB, and 64GB flavors, but pricing is yet to be announced.
SanDisk Extreme Pro series also offers UHS-I U3 speeds of 95MB/s read and 90MB/s write. The 16GB capacity retails for $80, while the 64GB for $300. We hope Kingston beats this price, considering the slight performance disadvantage of its UHS-I U3 cards.